SIF Folio: It's time to make a proper decision about T Clarke
The inglorious departures from the SIF folio of Bilby and Staffline over the last two weeks have drastically reduced the fund's exposure to UK-focused cyclical businesses.

Still left in the fund are car dealership group Lookers and brick maker Michelmersh Brick Holdings. Arguably, packaging group Macfarlane shares some exposure to the UK cycle as well.
Against this backdrop, I'm forced to again consider whether to add building services contractor T Clarke (LON:CTO) to the folio. This highly-regarded small cap is still the top-ranked eligible stock in my Stock in Focus screen results. It's also highly-rated by Stockopedia's algorithms: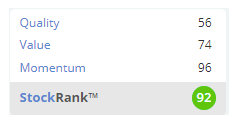 I first considered T Clarke a few weeks ago but opted to add emerging market asset manager Ashmore instead to improve my diversification. My exposure to UK cyclical stocks is now much lower, so I feel that I should now make a more committed decision about T Clarke.

Sector backdrop is mixed
Let's start with a look at the wider Construction & Engineering sector to which T Clarke belongs.
According to the Stockopedia stats, companies in this sector trade on a median price/earnings ratio of 9.1 with a median dividend yield of 3.8%. Earnings per share are forecast to rise by an average of 6.9% this year.

These numbers seem to paint a fairly neutral picture to me. You'd expect low valuations for companies of this kind, but it's encouraging to see that sector earnings are still expected to rise this year.

At a company level it's probably fair to say the outlook is more mixed. Notable losers over the last six months include Bilby and Kier Group, which fell 40% on Monday after a big profit warning.
However, even Kier singled out its 'Buildings' division as being the only area where it was still seeing revenue growth, albeit at a slower rate. I'd imagine this is where the firm's activities coincide with those of T Clarke, so that seems cautiously optimistic.
Deloitte's latest London Crane Survey suggests a similar picture. Activity in the London office market is said to be robust, but with a shrinking long-term pipeline. This is important as the City is a key market for T Clarke, which has…

Unlock this Article with a 14 day free trial
Already have an account?
Login here