SIF Folio: Profit warnings from Bonmarché and Keller + a fresh look at Morses Club
Last week's market wobble certainly generated some column inches. The SIF folio certainly didn't escape unscathed, giving up all the gains seen since March.

It's too soon to say whether last week's falls were the start of a more significant market sell-off. For now, I'm going to focus on stock-specific issues that are affecting my shares' performance. Unfortunately, these include two recent profit warnings.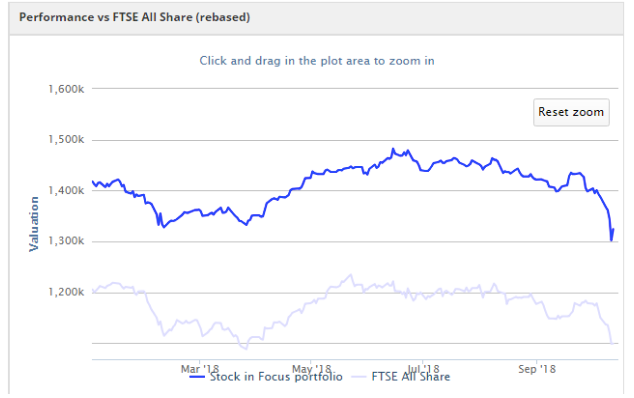 SIF performance vs. FTSE All Share 2018 YTD

Bonmarche warns on footfall
Women's clothing retailer Bonmarche Holdings issued a profit warning on 27 September. This was particularly frustrating as I'd reviewed the firm's performance favourably just two days earlier, following a solid Q1 update.
As the stock still qualified for my SIF screen, I'd then opted to keep the shares in the portfolio for another month.
Online vs stores: I was reassured by online sales growth of 27.3% during Q1. But I should have been more suspicious about the 1.2% fall in like-for-like store sales during the period. According to the firm, this weakness has extended into the second quarter.
Rather than blaming warm weather, management's view is that weak footfall on the high street is the main cause. The balance sheet remains strong, so that's not a concern. What we need to know is how easily Bonmarche might be able to start closing stores.
Are rents falling? Last year's annual report shows that the average unexpired lease length was 3.5 years at the end of June 2018. That's sounds reasonably flexible.
What's worries me is that the firm only managed to negotiate an average 4% rent reduction on 42 lease renewals last year.
This seems to compare poorly with Next, which renewed 19 store leases last year and cut rent costs by 28%.
Obviously Next has considerably more heft with landlords. But is Bonmarche's management doing everything possible to take advantage of the retail downturn and cut store costs? Like Graham Neary, I'm not convinced.
What's the hit? Underlying pre-tax profit for the 2018/19 financial year is now expected to be £5.5m, 31% below the FY18 figure of £8.0m.
That's a disappointing outcome. It means that Bonmarche is likely to exit the SIF fund at a loss at the end of this…

Unlock this Article with a 14 day free trial
Already have an account?
Login here