SIF Folio: Why I'm tempted to mine royalties with Anglo Pacific (+ Bilby update)
It's been almost a month since I last added a new UK stock to the SIF folio. The company in question was small-cap building services firm Bilby. This holding hasn't got off to the best start as it's already fallen by 17%.

This makes Bilby the second biggest faller in SIF. Regular readers will know that I don't use stop losses or sell stocks ahead of schedule. So Bilby will keep its place in the folio for at least nine months. However, I think it's worth taking a quick look to see what, if anything, has gone wrong.
Bilby - founder share sale?
I'm not too concerned by the sudden drop in Bilby's share price. The firm's full-year results in July were good and there's been no newsflow to justify a fall since then.
One possible explanation is that there's a big seller in the market. This idea seems to be supported by market data on 3 September, which suggested that more than a quarter of the group's stock has just changed hands:

The only shareholder who controls this many shares is founder and Deputy Chairman Phil Copolo. Mr Copolo's last-reported stake was 35.9% (14.5m shares).

Update 04/09/2018: An RNS has been released this morning confirming that Phil Copolo has sold his entire stake in the business and plans to retire, after 40 years in the hot seat. Given that he's 65, this doesn't seem overly worrying. The shares have been placed with institutional shareholders at 100p, hence the recent price weakness. You can read the full announcement here.
Moving on, I think it's worth noting that the technical picture still looks reasonably supportive, with the 50-day moving average now ahead of the 100-day figure: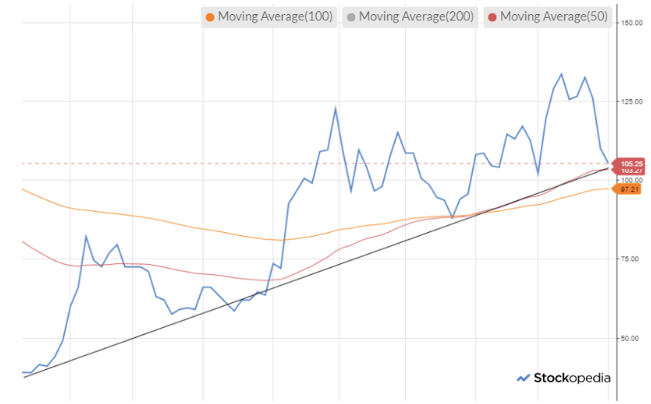 The black line is mine and suggests the share price could find support at this level.

Can Anglo Pacific deliver another 42% gain?
Although it's an area where I have an interest, SIF's exposure to the natural resources sector has been limited so far.
The highlight to date is last year's investment in FTSE 100 iron ore giant Rio Tinto, which generated a total return of 42%. However, my screen is now highlighting another potential opportunity in this sector, mining royalties…

Unlock the rest of this Article in 15 seconds
Already have an account?
Login here