SIF Portfolio: easyJet could still be a high flyer
The price of a barrel of Brent Crude oil hit $80 last week, for the first time since 2014. So now may not be an obvious time to invest in airline stocks.

I've also only just got rid of one airline group from the SIF portfolio. Adding another one almost immediately might seem a little inefficient in terms of trading costs.
However, this sort of anomaly is an inevitable side-effect of rules-based investing. And this week's stock, budget airline easyJet, is a very different business to the portfolio's previous airline stock, British Airways owner IAG.
Still room for growth?
Happily we have the benefit of a very recent set of accounts from easyJet. The half-year report published on 15 May gave guidance for a headline full-year pre-tax profit of between £530m and £580m. That's at least 30% above last year's figure of £408m. It also seems to have prompted a round of broker upgrades:
The secret to the continuing growth and profitability of easyJet and other budget airlines seems to be strong demand. Once again, easyJet managed to increase both capacity and load factor during the first half:

easyJet admits that the failure of Monarch, Air Berlin and Alitalia has created growth opportunities. It's expanding to fill some of these gaps and also selectively acquiring routes and aircraft, such as parts of Air Berlin's former operations at Berlin Tegel Airport. In April, management also indicated an interest in buying some Alitalia assets.
With weaker airlines dropping out of the market, it's a little hard to be sure how much market-wide capacity growth is taking place without more research. But easyJet's total revenue per seat rose by 10.9% to £54.10 during the first half (+8.3% at constant currency). This was well ahead of a 2.2% increase in non-fuel costs, suggesting to me that the group's pricing power remains healthy.
Interestingly, despite rising fuel prices, the airline expects its comparable fuel costs to fall by £60m-£70m to about £1,120m this year, thanks to a strong hedging profile: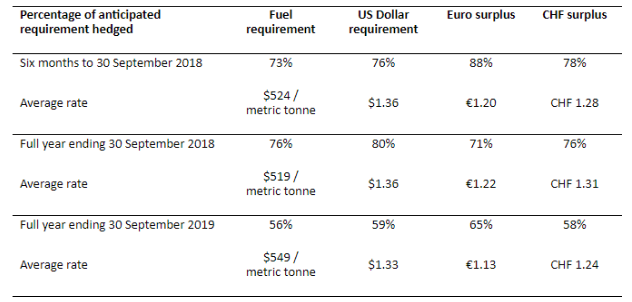 What could go wrong?
As with all businesses, there's a risk that easyJet's management will mess things up. But leaving this aside, the main risks I can see are cyclical.
At some point, rising…

Unlock this Article with a 14 day free trial
Already have an account?
Login here