SIF portfolio: Sirius Real Estate returns & 3 new foreign stocks
When following a rules-based investing strategy like the one I use for the SIF portfolio, the line between trading and investing can get blurred. In his recent interview with Ben Hobson (recommended reading), US trader Mark Minervini suggested that "an investor is someone who holds for long term capital gains; one year or more rather than weeks or months".

By that definition, I guess the SIF portfolio's minimum holding period of nine months means that it's leaning towards being trading, rather than investment. Certainly this week's choice of stock might suggest to many investors that I'm a trader!
Sirius is back!
Back in November, I sold the portfolio's virtual holding in German commercial property firm Sirius Real Estate for a total return of 29%.
This company operates business parks in Germany, providing flexible workspace. It was a successful holding for the SIF portfolio. But forecasts for lower earnings in 2018 meant that it no longer satisfied my screening requirement for 1-year forecast earnings growth of at least 5%, so the shares were sold.
The passing of time means that 1-year forecast earnings are now weighted towards 2018/19, a year in which the company's earnings are expected to rise by 25%, according to consensus forecasts: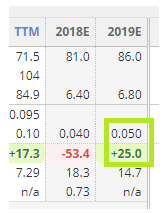 A strong set of H1 2017/18 results means that this stock now passes all of my screening rules.


Indeed, Sirius Real Estate is currently the only stock in my screening results that I'm able to add to the portfolio, once existing holdings and sector duplicates are excluded.

Is it still worth buying?
Sirius still scores highly across the board, with a StockRank of 89 and Super Stock status.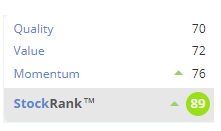 You can read my original write-up of Sirius Real Estate from March 2017 here. I'm not going to recap all of this, as not much has changed. The only thing that is different is the maturity of the group's portfolio.

Over the last year, the firm has sold some of its more mature assets and bought a number of new sites, often with low occupancy. Management expect to create value for shareholders by updating and remarketing these, as they have done successfully in the past.
This process is expected to have a short-term hit on earnings, but…

Unlock the rest of this Article in 15 seconds
Already have an account?
Login here