Stock in Focus airline showdown: easyJet vs Wizz Air
It's another quiet week for the Stock in Focus Screen, which is now down to just 10 results. Five of these are already in the SIF portfolio. The remaining five are excluded for various reasons.

There are no new stocks to buy this week, so I've decided to do something a little different. A few weeks ago, I explained why I insist on dividend payments from the companies I buy for the SIF fantasy fund. At the time of writing, removing this dividend requirement increases my screening results from 10 to 17 stocks.
Among these are two budget airlines with similar business models, but different geographic territories:
easyJet is the only one of these that meets my dividend rules, hence its inclusion in SIF. But both firms have a strong track record of growth.
This week I'm going to compare each company on key quality, value and momentum metrics. My aim is to see whether my minimum yield requirement might be preventing me from buying the best stocks, in sectors of the market where progressive dividends aren't the rule.
A stock market laggard?
Let's start with the simplest comparison possible. Here's a chart comparing the two firm's share price performance since Wizz Air's flotation in February 2015: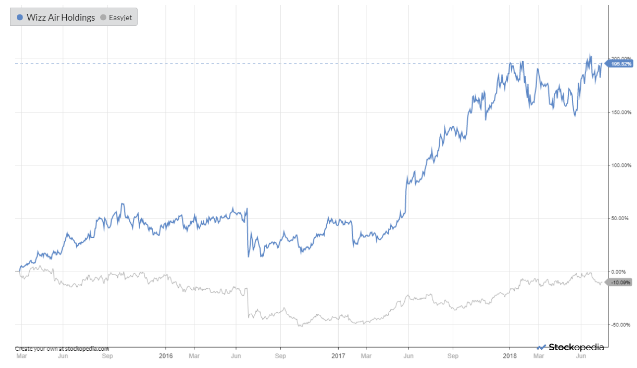 In case it's not clear, easyJet shares have fallen by 10% over this period. Wizz Air has risen by 195%.
The picture is little different over a two-year timeframe. Whereas easyJet has gained 42% since July 2016, Wizz Air has risen by 135%.
To be fair, this is partly because easyJet is a more mature business. It's explosive growth came between 2011 and 2014, when the shares rose by more than 400%. Today, it's worth £6.5bn, versus £2.7bn for Wizz. So some share price sluggishness might be expected.
The question is whether easyJet's valuation, quality and momentum measures can compensate for its greater size. The StockRanks suggest easyJet could still be the best buy. The larger firm's StockRank of 97 places it marginally ahead of Wizz Air, at 96. But these figures are too close to call. To reach a verdict we need to look more closely.
Looking closer at value
I've put together a table showing…

Unlock the rest of this Article in 15 seconds
Already have an account?
Login here