Stock in Focus: Why screen watchers should step carefully with Barclays
Taking a break from the stock market can be a useful reminder that for much of the time, successful investing is about patience. I've just taken a couple of weeks off, during which I've paid very little attention to the SIF portfolio or my personal shareholdings.
As someone who follows the market quite closely, this neglect requires some adjustment. But as usual, reassuringly little has happened in my absence, despite a slew of positive updates from portfolio stocks Air Partner, Fulcrum Utility Services, Sirius Real Estate and Flowtech Fluidpower.
Happily, the portfolio has stayed ahead of the wider market while I've been away. SIF has gained 6.4% since my last column was published, versus a market gain of 3.3%: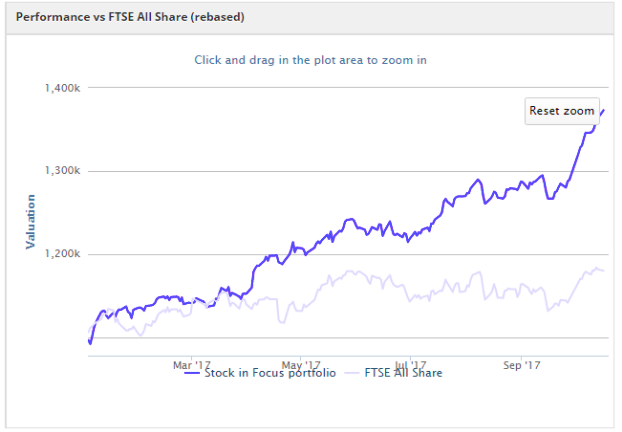 SIF performance so far in 2017.

Of course, these are short-term movements against the backdrop of a bull market. A correction could soon change the picture.
The reality is that most worthwhile investment gains are measured in months and years, not weeks. So this week I'm going to take a look at a stock I hold in my personal portfolio, which  made a surprise appearance in the SIF screen just before I went on holiday.
A value play gone bad?
Banking group Barclays has become a serious test of my patience. It's been a member of my value/turnaround portfolio since 2014, but has consistently failed to deliver.
Despite what I believe is a genuine improvement in underlying performance, the market isn't buying into broker forecasts for an improving outlook:

One reason for this may be the risk posed by the Serious Fraud Office's decision to charge the bank in relation to its 2008 refinancing.

Barclays' share price has fallen by 14% so far in 2017, underperforming the FTSE 100 by about 20%. My losses are relatively modest, but the opportunity cost of tying up cash in this stock is growing. In July, Stockopedia reclassified this stock from a Turnaround to a Value Trap. That's definitely a demotion and could be a concern for shareholders.
Does the appearance of the battered bank in my SIF screen results suggests that a turnaround may finally be in sight? Or does the bank's uncompetitive performance mean that we're still at…

Unlock this Article with a 14 day free trial
Already have an account?
Login here