Why UK housebuilders could offer value today
How quickly things change. In October, Megan looked at housebuilders and argued that their ultra-low single-digit price-to-earnings (P/E) ratios were likely to be a sign that a downturn in earnings hadn't yet been fully priced in.
Today, the picture is quite different. P/E ratios are in double digits. According to Stockopedia data, earnings at the eight biggest housebuilders on the London market are expected to fall by an average of 30% over the next 12 months: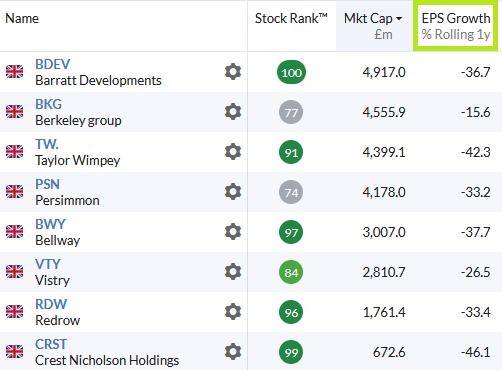 Order books are shrivelling and volume forecasts have been slashed at many of the big names. And yet… these companies all boast strong StockRanks and their share prices have rallied powerfully from October's lows:

Housebuilders (blue) vs FTSE All-Share Index (grey)
Indeed, over the last seven months, these stocks have been among the best performers in the FTSE 350, rising by an average of about 35% and outperforming the market by c.20%:

Housebuilders (blue) vs FTSE All-Share Index (grey)
Timing is everything when investing in cyclical stocks, as I discussed recently. In this piece I'm going to investigate whether housebuilders still offer value or whether the stock market – which always looks forward – has already priced in a recovery.
Housing market: mortgage lending hits net zero
Let's start with a look at the latest data on market conditions. Is the housing market slowing, crashing – or actually doing okay?
According to the Bank of England, mortgage lending hit net zero in March. In other words, new lending was offset by repayments. According to the bank, this was the lowest level of new lending since June 2011, excluding a brief period during the Covid-19 pandemic.
A more forward-looking measure is mortgage approvals. These rose in March but remain nearly 20% below 2022 levels, according to the Bank. In addition, this chart shows that approvals are still running well below pre-pandemic norms: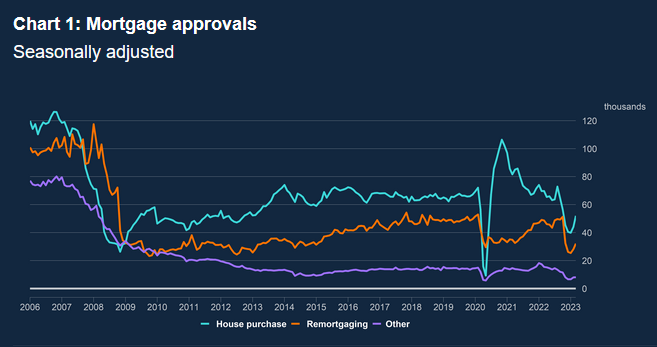 Source: Bank of England Money and Credit report March 2023
We can see the distortion caused by the pandemic, the impact of rising interest rates, and last year's disastrous mini-budget. But there's also an improving trend in 2023, as the market has begun to stabilise.
So far this year,…

Unlock the rest of this article with a 14 day trial
Already have an account?
Login here