International SIF: Peugeot + Lucara Diamond join the folio
There seems to be a widely-held view that western stock markets are overdue a correction after such a long bull market.

Timing this could be difficult, but it certainly seems as though rising US bond yields could trigger a change of positioning for some investors. After a decade of 'TINA' -- There Is No Alternative [to equity] -- investors can now earn more than 3% from US government debt. So for income-seeking investors, owning equities with sub-3% yields could become less attractive.
Lagging the market
What certainly is true is that the performance of my international SIF portfolio has continued to disappoint since my last review in September. This virtual portfolio now lags the wider market, having fallen by 12% so far this year, compared to a 4% decline for the FTSE All World Index.

Here's a snapshot of how the folio's 20 holdings have performed so far: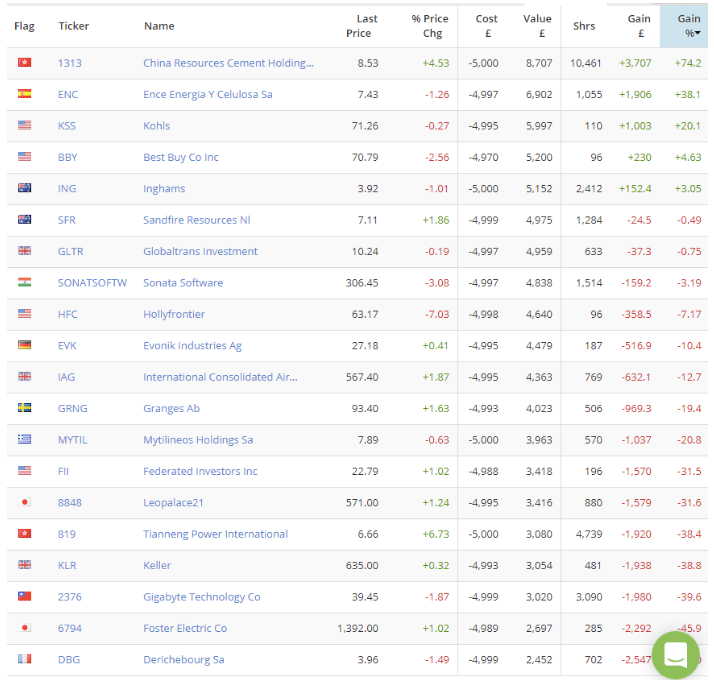 It's clear that the portfolio as a whole is not performing well. Seven holdings are down by more than 30%, and only five out of 20 are showing a profit.
I may have been caught in the early stages of a deflating equity market. Or I may have made some poor selections. I'm not yet sure.
However, I am planning to make some changes.
As I discussed in September, I'm going to shift the portfolio to a set of fixed geographic allocations. This will take a few months to achieve, but will eventually arrive at the following approximate weightings:
US/Canada: 42 pc

Europe (ex-UK): 33 pc

Asia/Australasia: 25 pc

UK: 0 pc
Without further ado, let's move on to the first of this month's two new stock picks from my International SIF stock screen, which you can find here.
If you don't follow the motor industry, you may not realise that Peugeot, Citroen and the DS brands are all part of the same group. They've recently been joined by Opel/Vauxhall, which the French firm bought from US rival General Motors.
In the UK at least, new car sales appear to have been hit by the new WLTP emissions tests, which came into force in the EU on 1 September 2018. Friday's profit warning from UK dealership Pendragon (covered here by Graham Neary) was blamed…

Unlock the rest of this Article in 15 seconds
Already have an account?
Login here