Small Cap Value Report (Fri 19 Oct 2018) - REC, SFE, PDG, SSON
Good morning! 
There's a lot of Brexit-related news at the moment but it's unlikely to help us find the next great small-cap opportunity, so I'm going to pretend it's not happening.
Today we have:
---
Share price: 31p (-12%)
No. of shares: 199 million
Market cap: £62 million
(Please note that I currently hold REC shares.)
Not a great update from Record.
This is a specialist fund manager providing currency services. I own shares in it because of my positive impression of management (conservative and well-aligned), excellent cash generation characteristics, and my belief, at the time I invested at least, that it served an important financial niche.
Unfortunately, it hasn't achieved much in terms of growth in the last few years - but then, this has been reflected in the valuation.
Its share price has also been a victim of the recent general market correction, and then when you add in the effect of today's trading update, it's dropping deeper into what I hope will eventually prove to be "cheap" territory.

When it comes to valuation, we should bear in mind that the company had equity (as or March 2018) of £26.5 million, almost entirely tangible and liquid, including cash and money market instruments worth £22.5 million.
The Stocko valuation chart shows what I'm talking about: forecast dividend yield of 7% and EV/EBITDA ratio of 6.4x (prior to today's sell-off, so it's cheaper now).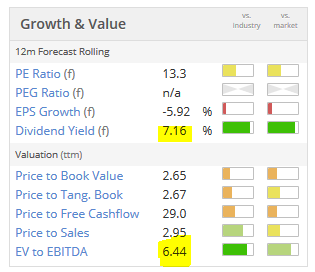 Today's update is not too encouraging, sadly. Assets under Management Equivalent (AUME) are up by 1.1% when expressed in GBP, but this was driven by market movements, not by client inflows. There was a small client outflow during the period.
Additionally, 7 clients (out of 66) are leaving, taking $2.5 billion of AUME with them (out of $61.8 billion). They use the Passive Hedging product, which is the cheapest one, so the total loss in terms of fees will probably not be huge. But it's hardly good news.
Fees - "Fee rates for most products were broadly unchanged". Again, this doesn't sound great. The…

Unlock this Article with a 14 day free trial
Already have an account?
Login here