SIF Folio: Why oil major Total could provide the balanced returns I seek
Fireworks are exploding outside my office window as I write, but the stock market seems to have calmed down so far this month. My portfolios are now showing a mix of green and red price movements. That's a pleasant change from the sea of red seen for much of October.

As Stockopedia writer Jack Brumby commented this week, October's correction means that a number of good companies are now cheaper than they were a month ago. I share this view and hope to be able to add some new stocks to my SIF Fantasy Fund at attractive valuations this month.
Here's how my Stock in Focus (SIF) screen results look at the time of writing. I've used the following colour code:
Green: already in the portfolio

Orange: potential new stocks

Red: Operates in the same business as an existing SIF folio stock. Doesn't satisfy my diversification rules.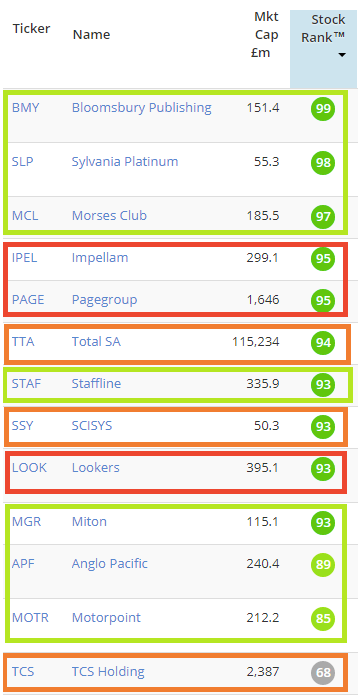 As you can see, there are only three stocks I can consider adding to the fund. Excluding Russian dual-listed bank TCS Holdings (a previous star performer), I'm left with:
My rules specify that I should consider the stock with the highest StockRank first. That means Total falls under the microscope this week.
Regular readers will note that SIF already holds heating oil distributor NWF. Would Total duplicate the oil market exposure provided by this business? I don't think so.
As Paul Scott explained here, the cost of heating oil is passed on directly to customers. Profit comes from a fixed gross margin (c.1p) added to the price of each litre sold. So higher oil prices don't boost profits for NWF. Indeed, the firm said recently that higher prices tend to stimulate price competition.
In road transport, the rising price of crude oil has pushed up diesel prices. My understanding is that diesel often accounts for about one-third of the cost of running a lorry. I'd expect NWF's logistics business, Boughey Distribution, to include fuel price surcharges in its customer contracts. But these can do no more than pass through extra costs, leaving profits unchanged.
A market beater?
Although Total's primary stock market listing is in Paris, I don't see this as a major concern. Its business…

Unlock the rest of this Article in 15 seconds
Already have an account?
Login here