SIF October review: Small wins and big losses leave me lagging the market (BON, MOTR, KLR, NXR, EZJ & BNC)
The recent market sell-off has hit by rules-based Stock in Focus (SIF) fantasy fund hard. Although SIF is still ahead of the market on a one and two-year view, over the last six months it's fallen behind index-following rivals.

Unsurprisingly, this month's correction has accounted for the majority of the portfolio's losses.
What's gone wrong? I think it's fair to say that this sharp drop has highlighted the risk of investing in stocks whose valuations have been lifted by strong momentum. When momentum goes into reverse, the same businesses are suddenly given lower valuations.
Did I overpay for some stocks? Perhaps a few.
Are they bad companies? I don't think so. In most cases I'd be happy to hold the stocks for a medium-term recovery if my trading rules allowed me to do so (they don't - see here for an explanation).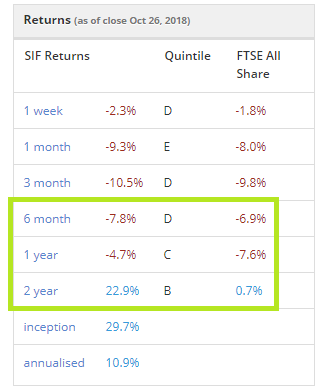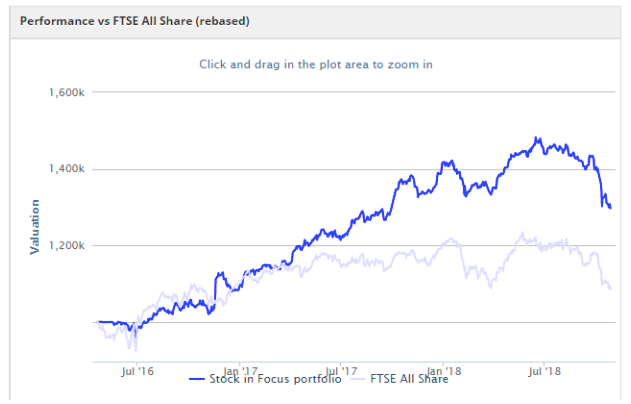 I've bought more easyJet: A portion of my own real-money portfolio mirrors the SIF. By and large, I follow the same rules. But I do allow myself the occasional exception, and in October I bought more easyJet shares.
easyJet shares have fallen by about 25% over the last three months:

This decline appears to have been driven by three factors:
Fears of Brexit armageddon;

the possibility of a Ryanair-style profit warning;

the risk that sector profits will be hit by overcapacity and rising fuel prices.
Personally, I see easyJet as a leading operator that's avoiding Ryanair's largely self-inflicted problems. So I've bought more. Please note I haven't averaged down the SIF fund's holding. I've only increased my personal shareholding.
Averaging down: I'm aware that for momentum investors, averaging down is seen as the ultimate folly. You're buying more shares when you've already been proved wrong.
On the other hand, for value investing I think it's perfectly logical. You're buying more when something good just got cheaper. That's what I think is happening with easyJet, although obviously I could be wrong.
5 stocks under review
I've touched on the portfolio's disappointing half-year performance already. In the remainder of this piece I'm going to look at some of the individual stocks behind this slump. No fewer than five stocks are up for review this month, after having been in SIF for nine months or more:

Unlock this Article with a 14 day free trial
Already have an account?
Login here