SIF Portfolio: Choosing the right sectors to beat the market
The Stock in Focus portfolio is now larger than it's ever been, with 22 holdings. Performance so far has been reasonably good, and the portfolio has risen by about 24% over the last 12 months versus 13% for the FTSE All Share.

My policy of allocating £50k to each stock was designed to allow 20 virtual holdings in my £1m Stockopedia Fantasy Fund. Reinvesting the profits from successful stocks has allowed me to increase the number of holdings, but the cash is nearly out.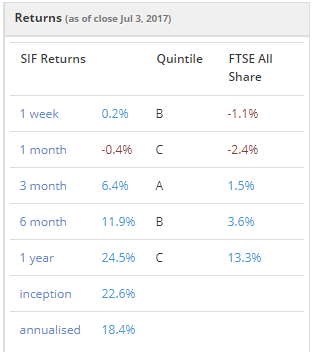 With just £27k of cash left in the kitty, I can't buy any more stocks until I sell some. I expect to do this later this month, in my monthly review.

In any case, this is about as large as I want the portfolio to get. My original target was to hold 15-20 stocks. So instead of reviewing a new stock this week, I want to take a closer look at the performance and composition of the portfolio.

Which sectors are overweight and which are missing or underweight?
Are the sectors where the portfolio is overweight the ones that have beaten the market over the last year? Am I avoiding losing sectors?
Steering a safe path?
So what kind of portfolio have my screening rules created? The analysis available on the fantasy fund pages is useful to monitor performance relative to your chosen benchmark. But Stockopedia offers much more sophisticated portfolio analysis in the Folios section of the website (under the Analysis and Allocation tabs).
So that I can take advantage of this functionality, I run a duplicate of the SIF portfolio in a Folio in my personal account. If you're running a fantasy fund, I'd recommend doing this. Entering the trade details only takes a minute, and the Folio tools provide a lot of useful extra information.
Let's start by comparing the portfolio against my original targets.
Company size: My plan was always for the portfolio to include companies of all sizes. My experience suggests big cap stocks can provide attractive returns, and I value the stability and income they tend to provide. The only restriction I put in place was a minimum market cap of £50m.
Investment style: My goal was to target affordable growth, avoiding 'hot' growth stocks, value traps…

Finish reading with a 14 day trial
Already have an account?
Login here