SIF Portfolio: Hogg Robinson and Banco Santander pass my tests
My first day back at work after Christmas finds me faced with another kind of temptation that could be bad for my (financial) health.

Corporate services group Hogg Robinson is currently the top-ranked eligible stock in my Stock in Focus screen. But after selling this £270m stock from the SIF portfolio last year, I ruled out further investments in companies with giant-sized pension deficits.
My reasoning was that these outsized liabilities seem likely to lead to an unpredictable outcome for shareholders. For example, in Hogg Robinson's latest interim results, the firm reported a £21.7m reduction in its pension deficit, to £243.5m. This was the result of a 0.1% increase in the discount rate used to calculate future liabilities and "and update of membership data" following the latest triennial valuation.
This valuation is ongoing and will include a discussion of "the appropriateness of the existing recovery plan". The firm is currently making an extra cash contribution of around £7.5m each year. As Paul Scott pointed out, that's similar to the amount paid out in dividends. It also represents around 17% of operating profit.
The bullish argument is that interest rates are now likely to rise, erasing the deficit and potentially triggering a re-rating of the stock. On the other hand, the pension trustees could decide that the company must increase its deficit reduction payments. This chart from last year's results has made me more concerned about this risk: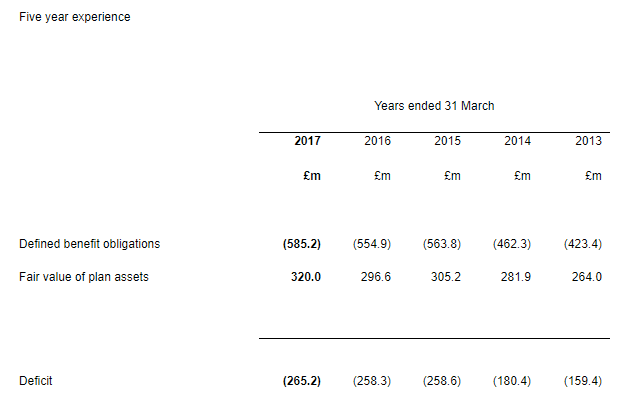 This shows that the fair value of the plan's assets rose by 21% to £320m over the five-year period (a strong bull market for almost all asset classes).

However, high bond yields and ultra-low interest rates caused the value of the firm's obligations to rise by 38% to £585m over the same period. As a result, the deficit increased by 66% to £265.2m.
---
*This section updated 8 Jan 2018. I had mistakenly compared asset value data for the group's pension schemes with those of the UK-only scheme.
The situation improved somewhat during H1 of the current year. Group-wide deficits fell by £21.7m to £243.5m. The main factor behind this was an improvement in the condition of the UK scheme, where obligations fell and asset values rose slightly: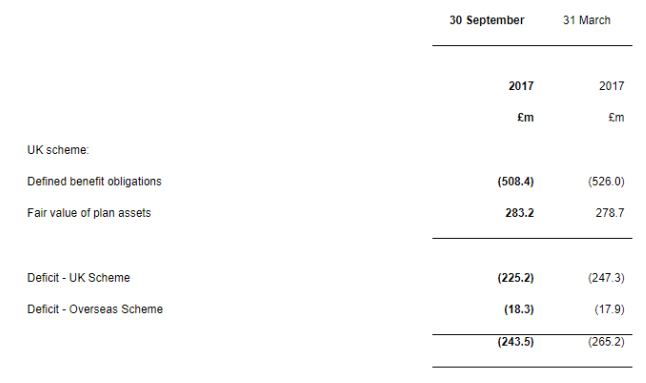 This improvement is encouraging. But it still seems…

Finish reading with a 14 day trial
Already have an account?
Login here