SIF Portfolio: Will Oxford Instruments make big gains from nanotechnology?
The market sell-off during the second part of last year has created some attractive value investing opportunities, in my view.

But the majority of these stocks don't qualify for my Stock in Focus (SIF) screen, because they have lagged the wider market. As a result, they have a 1-year relative strength (RS 1y) below zero and fail one of my screening rules.
Only one stock qualifies for the SIF screen at the time of writing. But if suspend the RS 1y rule, then the screen returns 14 stocks. I'm not going to do this, for reasons I explained a couple of weeks ago.
Instead, I'm going to continue buying shares from the relaxed version of my SIF screen, which allows for a slightly more elevated valuation while still maintaining my positive momentum requirements.
As a side note, I wonder if the tide may soon turn for the market. The wider market is nearly back in positive territory on a one-year view, as measured by my FTSE All Share benchmark:

Perhaps the number of stocks qualifying for my SIF rules will soon start to improve. We'll see.
Measuring atoms with Oxford Instruments
This week I'm going to be looking at high technology tools specialist Oxford Instruments (LON:OXIG). This engineering group started life as a spin-out from Oxford University and has been listed since 1983. It's now is knocking on the door of the FTSE 250 again, after staging a gradual recovery from poor trading in recent years.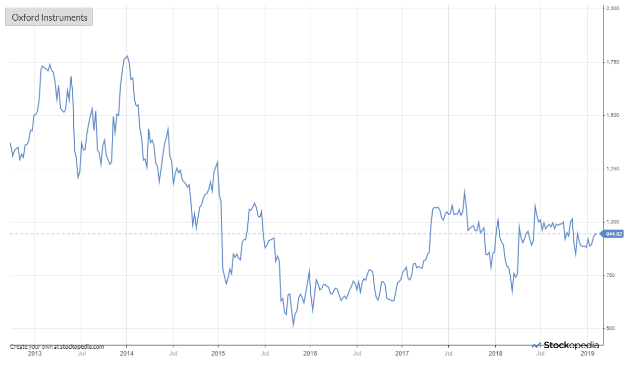 Oxford Instruments describes itself as a provider of "high technology tools and systems … which can fabricate, analyse and manipulate matter at the atomic and molecular level". The company is active in a wide range of sectors including healthcare, energy, chemicals and aerospace engineering. You can read more about its products on the group's website here.

Today, I'm interested in finding out if this business is the kind of affordable, growing business I want for the SIF Folio. The company's Stockopedia profile is of a High Flyer. This generally signifies a stock with strong quality and momentum, but poor value.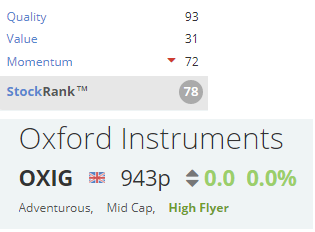 Although High Flyer is one of the styles that are statistically more likely to…

Unlock this Article with a 14 day free trial
Already have an account?
Login here