Lo-Q (LON:LOQ) issues solid results for a "52 week and 6 day" financial period ended 4 Nov 2012 (unusual!).
Revenue rose 19% to £29.1m, and profit before tax was up 17% to £3.2m. This translates into basic EPS up 26% to 14.6p (EPS is flattered by a Corporation Tax charge which has fallen from 28.2% last year to 20.0% this year).
The year-end net cash pile of £8.9m has since been spent on the acquisition of an American company in a similar space, virtual queuing systems, called Accesso. That used up £4m of the cash, and incurred £4.0m in debt (which has been refinanced with Lloyds today, as planned), plus an additional payment made in 1.8m new shares. So they are effectively now more-or-less cash neutral.
LOQ has clearly been a success story, as the historic data table below shows;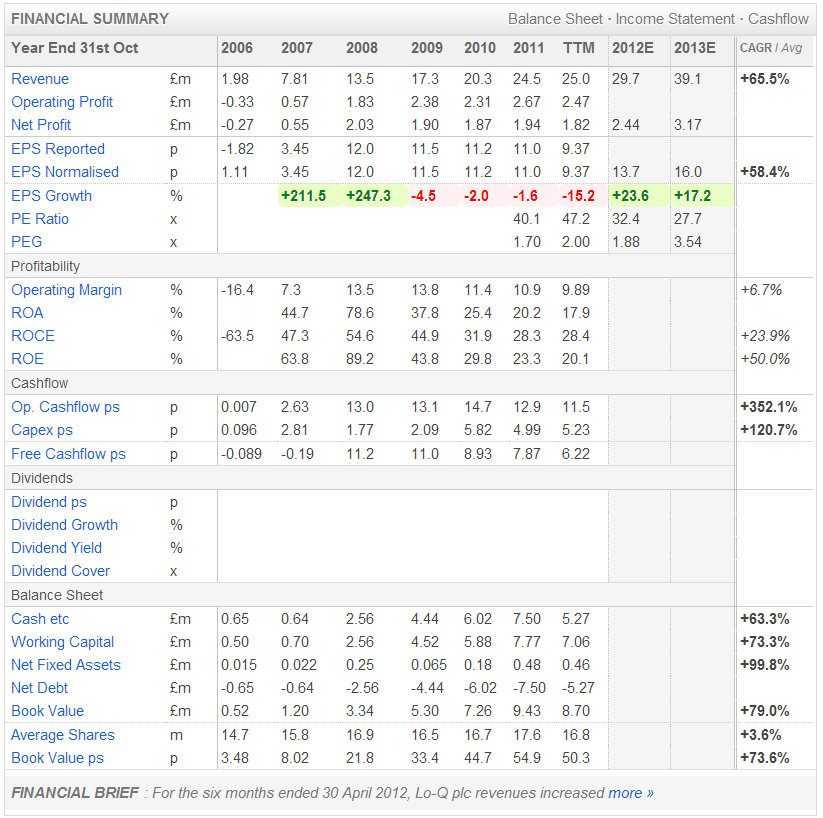 Interesting to note however that EPS has actually been flat from 2008-2011 at 11-12p. (please note that TTM is "Trailing Twelve Months")
That has jumped to 14.6p for 2012, and is forecast to grow again to 16p in the current year (ending 31 Oct 2013), fuelled by the acquisition of Accesso. There is no dividend.
I like the company, but remain sceptical about the elevated valuation. The market cap is now around £90m, or 3 times sales, at around 450p a share. I cannot see how this represents value at 31 times EPS just reported, and 28 times forecast EPS for the current year. But we are in a bull market, and valuations for growth companies are becoming pretty racy again, so who knows maybe the momentum will keep going here? To my mind a sensible price would be around 300p, or just under 20 times current year forecast EPS.
However, I also know how enthusiastic shareholders are about LOQ, and if you think they are likely to beat forecasts, then the numbers might stack up on a long term view at the current share price?
(Edit: new Edison research note on LOQ just published, click here to view it)
Nationwide Accident Repair Services (LON:NARS) issues a trading update today. They operate a chain of car crash repair workshops across the UK. Results for calendar 2012 are expected…

Unlock this article instantly by logging into your account
Don't have an account? Register for free and we'll get out your way
Disclaimer:
As per our Terms of Use, Stockopedia is a financial news & data site, discussion forum and content aggregator. Our site should be used for educational & informational purposes only. We do not provide investment advice, recommendations or views as to whether an investment or strategy is suited to the investment needs of a specific individual. You should make your own decisions and seek independent professional advice before doing so. Remember: Shares can go down as well as up. Past performance is not a guide to future performance & investors may not get back the amount invested.
---
---

accesso Technology Group plc is a United Kingdom-based company engaged in the development and application of ticketing, mobile and e-commerce technologies, and virtual queuing solutions for the attractions and leisure industry. The Company's solutions include accesso LoQueue, accesso Passport, accesso Siriusware and accesso ShoWare. accesso LoQueue is a queuing solution that includes Qsmart, Qbot and Qband. The accesso Passport ticketing suite is built where its customers shop. accesso Siriusware provides clients with ticketing and admission solutions, and includes various modules, such as OnSite Ticketing, OnLine eCommerce, Point-of-Sale and Guest Management. accesso ShoWare offers a range of ticketing software solutions for theaters, fairs, arenas and tours. The Company's products and services support attractions in the world, including a range of paid admission operations ranging from theme parks, water parks and zoos to cultural attractions and sporting events. more »

LSE Price

Nationwide Accident Repair Services Ltd. is a United Kingdom-based company, which provides automotive crash repair and accident administration services to the automotive insurance industry. The Company also provides its services to fleet operators. Its group of companies include Nationwide Crash Repair Centres Ltd, which operates a network of repair centers across England, Scotland and Wales; Nationwide Network Services Ltd, which provides accident management administration services to insurance companies and fleet operators; Nationwide Mobile Repair, which consists of a fleet of vans, fitted with repair equipment and manned by trained staff that provides services to repair centers nationally, and Nationwide Motorglass, which consists of a fleet of vans, fitted with glass repair and replacement equipment and manned by trained staff, which provides services to vehicle drivers through insurance companies, throughout the United Kingdom. The Company operates in Witney, Oxfordshire. more »

Price

Densitron Technologies plc is engaged in the design, development and delivery of electronic displays and related electronics and software. The Company's products include Organic Light-Emitting Diode (OLED), Thin-Film Transistor (TFT), Liquid Crystal Display (LCD) Module and LCD Glass, Touchscreen Displays and E-Paper or E-Ink Displays. The Company is also a designer and manufacturer of display technology. It operates in 35 countries worldwide and has local presence in the United Kingdom, the United States, Japan, Taiwan, France, Finland and Germany along with branch offices in India and the Netherlands. The Company's geographical segments include Europe (the United Kingdom, France, Nordic and Germany), the United States and Asia (Japan and Taiwan). The Company's subsidiaries include Densitron Europe Limited, Densitron Corporation of Japan, Densitron Corporation, Densitron France, Densitron Nordic Oy, Densitron Deutschland GmbH, Densitron Display Taiwan Limited and Densitron Land Ltd. more »

Price