Small Cap Value Report (13 Sep 2016) - CHRT, FLO, GOAL
Good morning!
We have about 20 people coming along to ShareSoc Brighton tonight, which is (just) above the threshold where it's worth doing. So I'm putting the finishing touches to my talk on small caps.
I'm dreading the train journey from London to Brighton. It's bound to be packed full of people who've thrown a sickie from work, to do some sunbathing! Summer is putting in one final appearance today apparently.
---
Share price: 315p (up 1.6% today)
No. shares: 41.0m
Market cap: £129.2m
AGM statement & Q1 update - this group of defence sector companies has a 30 April year end. So it's reporting today on the first quarter (May, June & July), although the figures given are as at 31 August, so that's actually 4 months, and not just Q1.
Anyway, the order book looks strong, and the all-important in line with expectations message is given;
The Group's order book stood at £128m as at 31 August 2016, underpinning a higher proportion of our externally forecast revenue for the year compared to this time last year.

The pipeline of orders beyond this and expected renewals give us confidence that the overall performance for the year will be in line with expectations, despite SCS's market in technical consultancy remaining a challenge.
The cash position remains healthy, although note that most of it is ear-marked for hoovering up minority shareholders in existing subsidiaries;
"The group's net funds as at 31 August 2016 stood at £14.4m.  The reduction in the Group's cash position since the year end was as signalled in our final results statement, stemming from the partial reversal of working capital inflow during a very strong fourth quarter of last year.

A further £9m is expected to be spent in the rest of this financial year in acquiring a further 23% of EID, taking our holding to 80%, and the remainder of the shares (49.999%) of MCL, taking our holding to 100%.
That all sounds fine to me. Also, note the valuation is hardly demanding;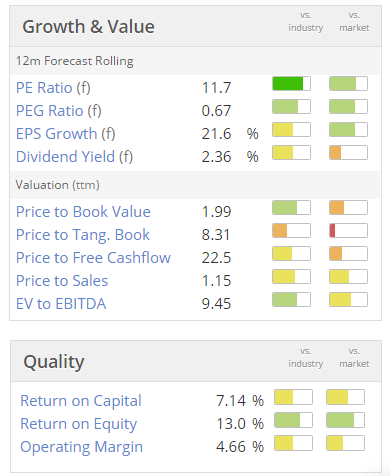 My opinion - it looks good value to me. Although I'm not madly keen on this sector, as contracts can be lumpy, leading to the ever-present risk of a profit warning. Or, something might go wrong with a major contract.
Mind you, at the current valuation, the risks seem…

Unlock the rest of this Article in 15 seconds
Already have an account?
Login here