Small Cap Value Report (2 Jun 2016) - PRV, FJET, PURP
Good morning!
I was amused this morning to see on an American website, they were asking New Yorkers for their views on Brexit. One confused respondent asked, "Is it something to do with breakfast?"
Is it affecting the markets much? Things feel a little more nervous this week. Looking at the small & mid cap indices for the last year, it all looks fairly stable to me, apart from a nasty spike down in Jan-Feb: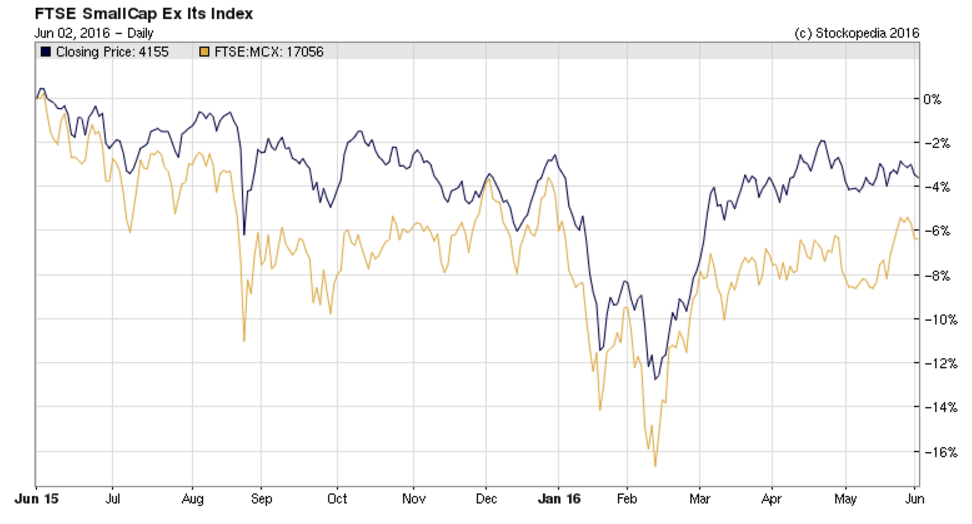 The SMXX is down about 4% in the last 12 months, and MCX is down just over 6% over the same period. So not a very good market. A lot of people I talk to are saying that their portfolio is flat, or slightly up or down so far this year. By the way, the blue links on SMXX & MCX are worth clicking on, as that takes you to the Stockopedia page which shows all the constituents of each index. It's interesting to have a rummage, sort them by various criteria, etc.
Personally, my long-term portfolio is about flat this year-to-date, but my geared trading account is up strongly - due to catching the HOME takeover bid, and being heavily overweight (and geared) in BOO. Although one needs a few big winners to mop up all the mistakes. I've not done my stats yet for this year, but last year my win:lose ratio was 60:40, which gave a satisfactory overall result. We shouldn't beat ourselves up over getting some investments or trades wrong - it's perfectly normal. As long as there are more (and bigger) winners than losers, then everything should be fine.
I'm padding this out a bit, because there are only 2 companies in my universe which are reporting today, and only one of them is any good.
---
Share price: 330p
No. shares: 45.1m
Market cap: £148.8m
Trading update - for the 6 months to 31 May 2016.
I've re-formatted the trading update into bullet points, and bolded the most important points:
Constant currency revenue growth of around 10%
Most markets experiencing good demand.
Interim profits are in line with management expectations and will be ahead of those reported in 2015.
Order books for the second half are healthy.
During the period the Group acquired TEM, which is performing well.
Investments were made in expanding manufacturing facilities in both the US and UK.
Net…

Unlock this article instantly by logging into your account
Don't have an account? Register for free and we'll get out your way
Disclaimer:
As per our Terms of Use, Stockopedia is a financial news & data site, discussion forum and content aggregator. Our site should be used for educational & informational purposes only. We do not provide investment advice, recommendations or views as to whether an investment or strategy is suited to the investment needs of a specific individual. You should make your own decisions and seek independent professional advice before doing so. Remember: Shares can go down as well as up. Past performance is not a guide to future performance & investors may not get back the amount invested. ?>
---
---

Porvair plc is a specialist filtration and environmental technology company engaged in the development, design and manufacture of filtration and separation equipment. The Company's operating divisions include Metals Filtration and Microfiltration. The Metals Filtration Division designs and manufactures porous ceramic filters for the filtration of molten metals, principally aluminum. The Microfiltration Division designs and manufactures a range of filtration equipment for application in aerospace, energy, bioscience, water and industrial applications. It is developing a range of products, including the products for the manufacture of turbine blades, solar panel manufacture and energy storage. It operates Microfiltration division through its subsidiaries, Porvair Filtration Group, Seal Analytical and Porvair Sciences. It operates Metals Filtration Division through its subsidiary, Selee Corporation. It has plants located in the United States, the United Kingdom, Germany and China. more »

LSE Price

fastjet Plc is the holding company of airlines, such as fastjet Airlines Limited (fastjet Tanzania) and fastjet Zimbabwe. The Company is engaged in providing airline services. Its segments include Tanzania, Zimbabwe, Central and Angola. It operates approximately 10 routes to over 10 destinations in approximately six countries in Africa. Within Tanzania, the Company operates routes connecting Dar es Salaam to Mwanza, Kilimanjaro, Mbeya and Zanzibar, while in Zimbabwe it operates between Harare and Victoria Falls. It operates international routes from Tanzania to Kenya (Nairobi), South African (Johannesburg), Zimbabwe (Harare), Uganda (Entebbe) and Zambia (Lusaka). Its tickets are sold through travel agents, trade, Website bookings (desktop and mobile) and general sales agents, and in Tanzania, the Company runs its own sales offices. Its subsidiaries include Fastjet Aviation Limited, Fastjet Leasing PCC Limited, Fastjet Air TZ (BVI) Limited and Fastjet Leasing UK Limited, among others. more »

LSE Price

Purplebricks Group plc is a United Kingdom-based company engaged in the business of estate agency. The Company operates through the division of providing services relating to the sale of properties. The Company uses technology in the process of selling, buying or letting of properties. The Company operates in the United Kingdom. more »

LSE Price