Good morning!
A very quick run through this morning, as I have to set off as soon as possible after 10am, for a regular investor lunch in Reading.
Paddington station is tricky to get to, from Islington. However, I do enjoy the free WiFi on the GWR trains from there to Reading. It makes the journey so much more productive, as you can do useful things on the way.
I do wish the Government would prioritise free WiFi on all trains, as I think that would be a good boost to economic activity - allowing people to work on trains more effectively.
---
Share price: 13.27p
No. shares: 124.6m
Market cap: £16.5m
Trading update - the company reassures on current trading;
The Company continues to trade in line with the Board's expectations for the full year, with Q4 expected to mirror the usual trading seasonality uplift.
The original core business is being sold for $16m, which will clear most of the group's bank debt. This sale was expected to close by end 2016, but looks as if it's slipped into early 2017. If this disposal falls through, then the company is in big trouble, with way too much debt, and a loss-making business in aggregate.
Therefore I wouldn't even consider an investment here until the sale has gone through.
John Hawkins' disastrous, self-serving (in terms of excessive remuneration) stewardship here has resulted in the original business being sold off in a fire sale, to repay the debt he ran up making acquisitions. He's got form on this - a series of acquisitions ended badly when he ran Anite.
However, that's water under the bridge now. The only question is whether the remaining software business - Pebble Beach - is worth more or less than the market cap?
A table is provided today, which shows that Pebble Beach (i.e. future Vislink) is profitable. However, I've also flagged up the hefty central costs. So the key question is how much of the central costs will depart along with the main business that's being sold?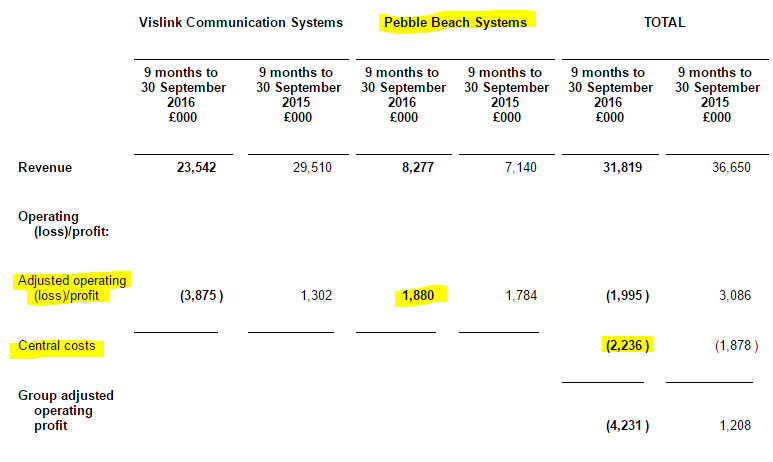 At a guess, it looks to me as if new Vislink (i.e. Pebble Beach) may make a profit of c.£1m after reduced central costs. As such, the market cap of £16.5m doesn't look particularly attractive to me.
I'd want to look very closely at the accounting procedures too, as I've…

Unlock this article instantly by logging into your account
Don't have an account? Register for free and we'll get out your way
Disclaimer:
As per our Terms of Use, Stockopedia is a financial news & data site, discussion forum and content aggregator. Our site should be used for educational & informational purposes only. We do not provide investment advice, recommendations or views as to whether an investment or strategy is suited to the investment needs of a specific individual. You should make your own decisions and seek independent professional advice before doing so. Remember: Shares can go down as well as up. Past performance is not a guide to future performance & investors may not get back the amount invested. ?>
---
---

Pebble Beach Systems Group plc, formerly Vislink plc, is a software and technology company. The Company is engaged in the collection and delivery of video and data from scene to screen. The Company's Pebble Beach Systems division is a developer and supplier of automation, Channel-in-a-Box and content management software solutions for television broadcasters, cable and satellite operators. For the broadcast markets, the Company provides wireless communication solutions for the collection of live news, sport and entertainment. The Company's products include Marina, which is an enterprise level playout automation platform for multi-channel applications; Orca, which is an Internet Protocol (IP)-enabled cloud-based integrated channel delivery solution; Dolphin, which provides multi-format integrated channel delivery solutions based on information technology (IT) hardware, and Stingray, which is a self-contained Channel-in a-Box. more »

LSE Price

1Spatial plc is a holding company. The Company's principal activity is the development and sale of information technology software along with related consultancy and support. It operates through three segments: Geospatial, Cloud Services and Central costs. The Geospatial segment includes the core 1Spatial Group, including France and Belgium, and Laser Scan Inc. The Cloud Services segment is represented by Enables IT and its two smaller businesses: Avisen and Storage Fusion Limited, and its associate, Sitemap Limited. Its geospatial technology enables organizations to manage, validate, integrate and interpret spatial data from different sources. Its products and services include 1Integrate for ArcGIS, 1Spatial Cloud, 1Spatial Management Suite, Elyx Suite, FME, Geocortex, G-Cloud Services, consultancy, support and training. Its clients include national mapping and cadastral agencies, utility and telecommunications companies, and government departments, including census bureaus. more »

LSE Price

Avanti Communications Group plc is engaged in the provision of communication services. The Company is engaged in commercial exploitation of its space and network assets, which include its spectrum rights, satellites, intellectual property and ground station assets. The Company's products include SELECT, CUSTOM, PURE and ApTec. The Company's satellite network interface gives service providers the control across the fleet and ground infrastructure. The Company's shared bandwidth product is an end-to-end solution that provides terminal equipment and a contended access path from an end-users property to the Internet. Its service levels range from 512/128 kilobits per second (kbps) to 30/2 megabits per second (Mbps). PURE is suitable for established satellite service providers and supports any satellite based data communications application on any vendor's Ka-band hub. ApTec is a specialist systems integration and solutions sales group, which helps Government to achieve outcomes to policy. more »

LSE Price