Small Cap Value Report (25 Oct) - SND, BSST
Good morning! Just a short report this morning, as there's very little relevant company news today. Also I have to prepare for my talk on the Stockopedia stand at the London Investor Show today, at 2pm. Hope to see some of you there. I'll be chatting about current issues with small caps - e.g. adjusted EPS manipulation, pension deficits, are shares getting too expensive?, how I use Stockopedia to keep on top of 500 companies, and anything else that pops into my head! There will also be Q&A. I hate doing public speaking, so will be glad when this is over, but hopefully people will find it interesting.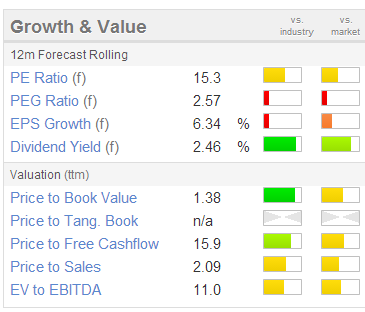 Software company Sanderson (LON:SND) issues a trading update for the year ended 30 Sep 2013. Results are in line with market expectations, for £13.8m turnover, and (unspecified) operating profit in line with expectations. Stockopedia shows broker consensus of £1.9m net profit, and 4.0p EPS.
I thought this company looked pricey when the shares were just below 50p earlier this year, so the recent rise to 64p has left me puzzled. That gives a market cap of £28.5m, which strikes me as rather warm for what seems to be a mature business, with probably fairly limited growth potential.
It's got a ropey Balance Sheet too, with £22.4m in intangible assets. So once you write those off, from the £20.6m net assets, you end up with tangible net assets which is negative to the tune of £1.8m. Net cash was last reported at £4.5m, but it all relates to money paid up-front by customers (deferred income is £4.3m), so doesn't really belong to the company yet (until they deliver the services paid for in future periods).
Surprisingly, there is a pension deficit of £4.3m, which is very unusual for a software company, since most similar companies were created after final salary pension schemes had (rightly) fallen out of favour. It seems crazy now that companies willingly took on such massive potential liabilities without a qualm, but I suppose nobody foresaw the dramatic improvement in life expectancy. After all, for my grandparents generation, the main bread winner retired at 65, and died in his early to mid 70's, so the pension schemes were only designed to pay out for a few years. Whereas today,…

Unlock the rest of this Article in 15 seconds
Already have an account?
Login here