Small Cap Value Report (25 Sep 2014) - TMMG, HYNS, TMZ
Good morning! A quick, and early report today, as I have a packed diary of meetings in London today! So I really hope just for once, the train will be on time.
I listened to the Webinar yesterday, and it struck me that the sell-off in these shares seemed overdone, so I bought a few as a trading punt at about 221p. Lucky timing, as the price rose nicely into the close yesterday afternoon.
An announcement this morning states that two Directors have bought shares. The FD bought 12,500 shares at 235p (splashing out £29k), but Hanover Investors (connected with two other Directors) bought a more meaningful 212,000 shares also at 235p (costing £498k). So two Directors spending £527k is a decent sized signal of confidence in my opinion, and I expect the share price will continue recovering today on the back of this news.
(Note that Hanover banked £17.5m by selling shares at 300p in Jan 2014!)
---
Interim results to 30 Jun 2014 are issued this morning and look alright.
Headline operating profit is up 3% to £2.1m.
The Balance Sheet here is my main concern, as it is negative once you write off intangible assets. However, net debt has come down to £7.3m, although as the company states in the narrative today, H1 tends to see a stronger cash inflow than H2. I recall a meeting with the FD last year, when he explained that debt was under control again after a difficult patch, and that looks about right to me.
Outlook - positive, but they've given themself some wiggle room in case anything goes wrong in H2!
Our financial performance remains solid. As in previous years, our second half weighting creates challenges ahead but, as we stand, we are confident that our business remains on track to deliver against our year-end expectations.
Valuation - it looks good value on a PER basis, but once you adjust for net debt, the valuation increases to a level that I think looks about right, maybe slightly on the cheap side? Note that the quality measures are on the low side, so it should be on a relatively cheap valuation: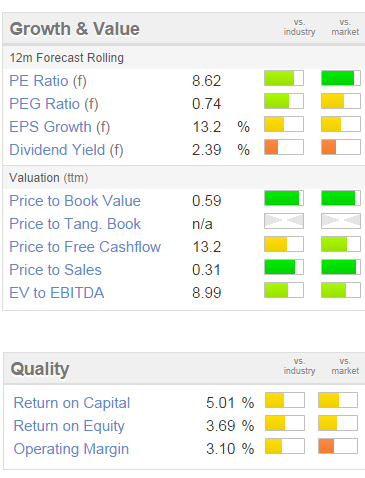 Dividends - the yield is nothing to write home about, and there are better yields in this sector, e.g. Creston…

Unlock the rest of this Article in 15 seconds