Small Cap Value Report (3 Jul 2014) - CRAW, AXS, MPOW, AGA, THT
Good morning!
Crawshaw (LON:CRAW) & fundraisings generally
If I were a shareholder here, I'd be very unhappy with a Placing that has been announced this morning. It involves the enlargement of the share capital by 36%, to raise £8.8m at 42p per share. That would have been a sensible price when the roadshow started a few weeks ago, but the share price has risen very strongly since, on the AGM announcement about accelerating the roll out of stores nationally (it's a small Northern butchers chain at the moment).
The trouble is that the share price was 54p last night, 60p the day before, and peaked at around 70p a few days before that. So doing a Placing at 42p dilutes existing holders considerably at what is now an unfavourable price.
You can see from the chart below that the Placing was probably set up in early June, then there would have been maybe a fortnight of meetings with Institutions, etc, so at first the 42p price would have seemed sensible. However, the big spike in price since mid-June has caused the problems here. Anyone who bought in that spike must be feeling very bruised now, especially as a lot of the spike was caused by the company itself putting out a bullish strategy statement in the AGM trading update. This would not have been a problem if existing holders had a chance to buy at 42p too. The additional costs of an Open Offer are not a lot, about £30k I've been told. So this could, and should have been done.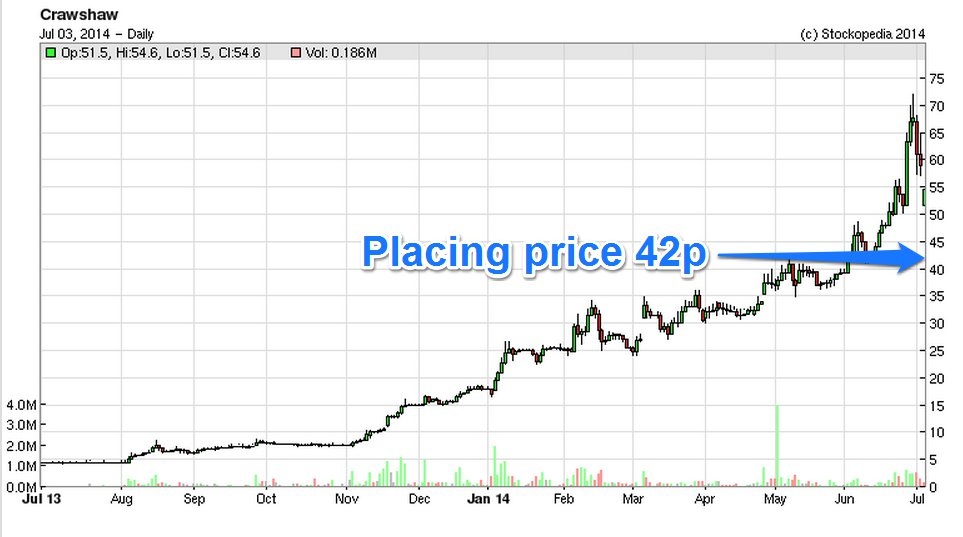 The big mistake, as we so often see with fundraisings, is that existing shareholders were completely excluded. I don't hold here, but in principle this is totally unacceptable. Unless there is a very good reason not to do so (e.g. an emergency fundraise, which this wasn't), then companies should ALWAYS allow existing shareholders to participate in a fundraising on equal terms to people taking part in the Placing. A sensible fundraising would be 50:50 between Placees and existing holders through an Open Offer.
Better still, you can do what Volex (LON:VLX) recently did, and give priority to existing holders in an open offer, and then have placees lined up to take any shares which existing holders don't want. That's the best way to do a fundraising, as…

Unlock this article instantly by logging into your account
Don't have an account? Register for free and we'll get out your way
Disclaimer:
As per our Terms of Use, Stockopedia is a financial news & data site, discussion forum and content aggregator. Our site should be used for educational & informational purposes only. We do not provide investment advice, recommendations or views as to whether an investment or strategy is suited to the investment needs of a specific individual. You should make your own decisions and seek independent professional advice before doing so. Remember: Shares can go down as well as up. Past performance is not a guide to future performance & investors may not get back the amount invested. ?>
---
---

Crawshaw Group Plc is a United Kingdom-based company, which operates a chain of meat-focused retail food stores. The Company has approximately 40 stores, which are located across Yorkshire, Lincolnshire Nottinghamshire, Derbyshire and the North West. The Company's product range is categorized into approximately two distinct areas, such as Traditional raw meat, and Hot and cold cooked food. Under the Traditional raw meat category, it offers various products sold either loose in a serve over counter for the traditional experience or as multi buy packs on supermarket style multi deck counters, which have all been cut and packaged in store. Under the Hot and cold cooked food category, it offers freshly prepared roast chickens, gammon and pork joints, hot roast sandwiches, shop cooked curries and casseroles, chicken and chips, as well as other traditional deli products. Its stores include Arndale Centre in Arndale; The Arcades in Ashton Under Lyne, and Fresh Meat Factory Shop in Astley. more »

LSE Price

Accsys Technologies PLC is a chemical technology company. The Company is focused on the development and commercialization of a range of transformational technologies based upon the acetylation of solid wood and wood elements (wood chips, fibers and particles) for use as construction materials. Its segments include Licensing, Management and Business Development; Manufacturing, and Research and Development. It is engaged in the production and sale of Accoya solid wood, and licensing of technology for the production and sale of Accoya wood and Tricoya wood elements through its subsidiaries. The Accoya solid wood and Tricoya wood elements technologies are manufactured through the Company's acetylation wood modification process. Accoya wood is used for windows, external doors, siding, decking, structural and civil engineering projects. Tricoya Wood Elements are used in Facade cladding/siding and other secondary exterior applications; window components, and door skins and wet interiors. more »

LSE Price

mporium Group plc is a holding company for mporium Limited and Fast Web Media Limited. The Company is a mobile first technology firm that monetizes the transformation that smartphones have had on consumer behavior. The Company provides Software-as-a-Service (SaaS) and supporting services. The Company is in the process of developing two products: impact and insights. The mporium impact is an advanced digital advertising platform. The mporium impact works for digital advertisers and their agencies. The mporium impact uses the stimuli that television content provides and generates the associated synchronized consumer digital activity. The mporium insights product provides enterprise level technology to the small and medium sized enterprise (SME) market. The mporium insights offers e-commerce analytics, customer segmentation, and real-time customer data, which include trend-based Web traffic reporting. more »

LSE Price