Small Cap Value Report (3 Jul 2015) - NET, UBI, SDM, PXS, EAH
Good morning!
I'm away from home today, with a very poor internet connection, so am hoping I'll be able to get through this article without any more technical problems!
---
Share price: 51.5p (down6.4% today)
No. shares: 137.0m
Market cap: £70.6m
Takeover deal is off - an unusual announcement today from Eckoh (LON:ECK) stating that a major Netcall shareholder has been reluctant to support the deal which had been agreed between the companies' management:

This is certainly embarrassing for both Boards - usually when a recommended deal is announced, the deal would go through, with major shareholders having been taken inside, and agreeing it beforehand.
Netcall's biggest shareholder is Livingbridge VC LLP, who hold 17.9%, so presumably it must have been them who scuppered the deal? The next largest shareholder is Gartmore, with 10.8%, then Investec with 8.7%.
The problem with this mooted deal was that it was mainly in shares - 63.94p for each Netcall share, of which only 13p was in cash. The balance was in Eckoh shares (based on them being priced at 40.75p), but in my view Eckoh shares are significantly over-valued, so personally I wouldn't want to swap shares in something reasonably priced, and get paid in shares that are over-priced! Perhaps that's why the deal floundered?
From the point of view of Netcall shareholders, at least they now have the comfort (and potential future upside) of knowing that a third party is interested in buying their company. A better deal might come along in the future perhaps?
---
Share price: 96p (-13.1%)
No. shares: 36.3m
Market cap: £34.8m
Profit warning - yes, another one! It last warned on profit on 30 Apr 2015, and stated that it needed to raise more money. Then on 8 May 2015 a Placing at 90p was announced, to raise £10m (pre-expenses). Then on 4 Jun 2015 new banking facilities were agreed with HSBC.
Today it says there have been further contract delays:

More detail is given: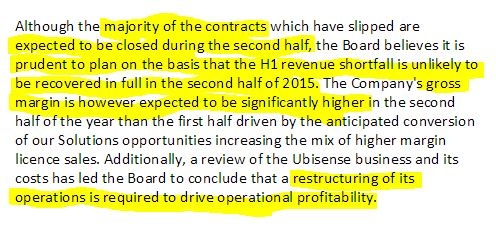 So a bit of a mixed bag. Without guidance on how these various points will combine to affect profits, it's difficult to draw much of a conclusion. So it would be a case of…

Unlock the rest of this Article in 15 seconds
Already have an account?
Login here