Small Cap Value Report (31 Mar 2015) - ECK, PURI, MCO, CTG, ULT, CHA
Good morning! I had a second wind last night, and added sections on four more companies, so to recap on yesterday's complete report, this is the link.
I saw a snippet on Twitter this morning, saying that UK consumer confidence has hit a multi-year high. So I will be increasing my focus on consumer-driven shares. Generally I'm bottom up in approach to picking stocks, but I like to keep an eye on which way the macro winds are blowing (very topical!), as you increase your odds of investing success if there's a macro tailwind assisting the companies that you invest in.
---
Share price: 39.25p
No. shares: 223.1m
Market Cap: £87.6m
Update - this speech recognition software company updates for its March year end. The company performed "particularly strongly" in Q4, winning 6 new multi-year contracts, and 2 new contracts with existing customers. The growth area seems to be secure phone payment systems, and the company refers to its "growing dominance in this sector". A further 8 contract renewals which came up, were all successfully renewed - good news. So this company clearly has a product which appeals to its customers, always a good starting point!
The financial benefit of the new contracts will not benefit the year ending today by the looks of it, as the company refers to revenue in the new financial year "supporting current growth expectations".
Outlook - all sounds positive (with my usual wonky highlighting of key phrases);

Valuation - hmmm, this is where it stops looking good. I like the company (have known it for years, I remember being in these when they were about 5p, and they never went anywhere, so I got bored & moved on), but everything has its price, and the price here just looks too high, given that growth is steady rather than stellar.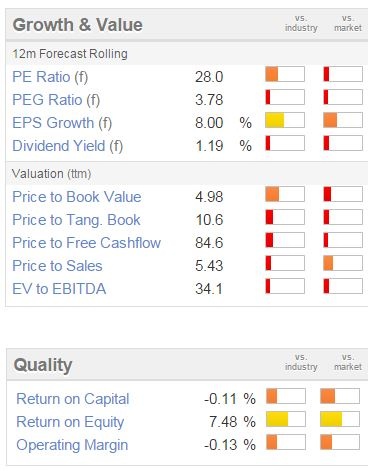 So a sea of red there, although it looks as if there might have been some one-off costs in the 2013/14 figures, which is suppressing the quality scores. Based on forecasts, net profit is seen rising to £2.88m for the year ending today, and £3.53m for next year, EPS of 1.25p and 1.35p respectively.
It would only make sense to buy this share if you think that the company can thrash forecasts for next year (y/e 31 Mar 2016). Given the positive contract…

Unlock the rest of this Article in 15 seconds
Already have an account?
Login here