Small Cap Value Report (5 Mar 2014) - CAMB, ECV, FOUR, SQS, FLOW
Good morning! I've been asked to give short introductions to the companies presenting at tonight's Mello Central investor evening, kindly hosted as always by FinnCap, so was burning the midnight oil last night doing my research. Very interesting they sound too, being;
Helpfully, a trading update has been released today, so we have bang up-to-date information when seeing the company tonight. I've commented favourably on this company before, which has been buying up under-performing motor dealerships cheaply, then turning them around under experienced management. The Balance Sheet is excellent too, underpinned by freehold property, and with a lot less debt than you normally see in this sector.
The key part of today's trading update says;
...it expects the Group's results for the six months to 28 February 2014...to be significantly ahead of the prior year and that it views the outlook for the remainder of the financial year with confidence.
That's great as far as it goes, but what investors really need to know is how the company is performing against expectations. My previous comments on this company have concluded that the broker forecasts seem rather low.
So I'm having a look at last year's interim results now, which showed underlying profit of £1.4m on turnover of £179.1m (note how low margin motor dealerships are). This delivered 1.04p adjusted EPS, which was only slightly higher than normal EPS of 0.97p, indicating very few adjustments, which is good.
Note how broker EPS forecast consensus has risen several times in the last year;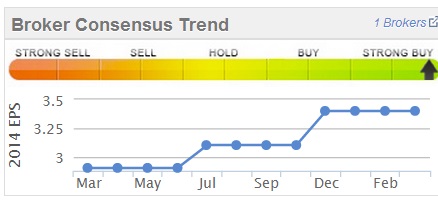 For the full year they delivered 3.57p adjusted EPS last year, so I'm assuming that means more like 4p this year is likely? Broker consensus is currently only at 3.4p, which does look low.
I've heard that management come across very well, although it will be my first meeting with them tonight, so am looking forward to that. Note also that these shares are tightly held,…

Unlock the rest of this Article in 15 seconds
Already have an account?
Login here