Small Cap Value Report (7 Oct 2016) - SHOE, BRAM, XPP, EKF, CALL
Good evening!
Firstly, my apologies for this report being late. There are some interesting things to comment on though, so I'm catching up on Sunday evening, for Friday's announcements.
Sterling flash crash
There was a strange flash crash in sterling overnight Thu/Fri last week. Sterling has already been weak of course, but it spiked down to £1 = $1.18 very briefly, before mostly recovering, with another wobble some time later in the day: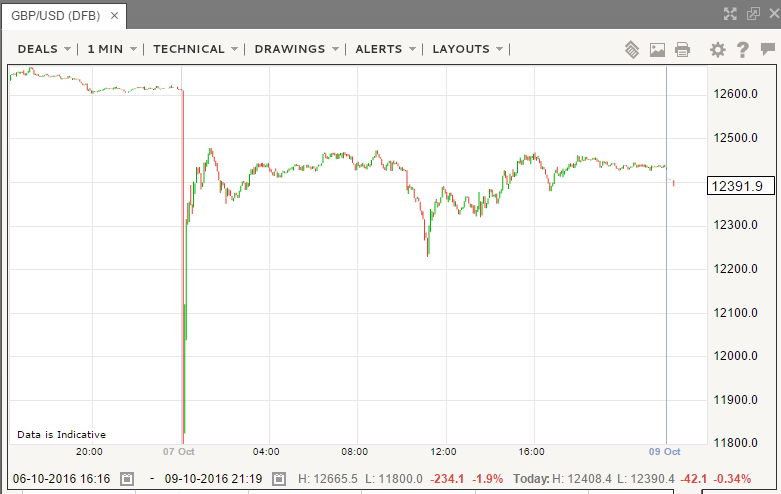 (chart courtesy of IG
So what's this got to do with small caps, you may ask? Quite a lot actually, and anyone who is not thinking about this issue, could be sleepwalking into serious losses.
We've now had a very large depreciation of sterling since the referendum, and that affects many businesses. So to recap;
Businesses hurt by weaker sterling
Importers - e.g. non-food retailers tend to import almost everything, and they will be forced to significantly raise prices in 2017, which will dampen demand. Many UK manufacturers will import some or all of their raw materials.
Overseas holidays will be noticeably more expensive for Brits in 2017.
Inflation is likely to rise, as businesses try to pass on higher import costs to their customers. So we're likely to see all UK businesses come under some higher input cost pressure.
Consumers will start to feel the pinch from higher shop prices in 2017, so may start pushing employers for higher wages.
Businesses which benefit from weaker sterling
Exporters - UK companies have become dramatically more competitive in recent months, so we could see something of an export boom.
UK producers competing in UK markets against imported goods have become much more competitive due to cheaper sterling (e.g. as noted recently by Victoria (LON:VCP) )
Incoming tourism - the UK is likely to be rammed with foreign visitors in 2017, and I've seen data suggesting that the numbers have already risen.
UK listed companies which generate a significant element of their earnings overseas. So in my portfolio for example, Somero Enterprises Inc (LON:SOM) and Avesco (LON:AVS) should see sterling earnings rise, as a result of positive currency translation from their main activities in the USA.
What action to take?
Well, that's up to each individual. Personally I'm tending to be very wary of anything in High Street retailing…

Unlock this article instantly by logging into your account
Don't have an account? Register for free and we'll get out your way
Disclaimer:
As per our Terms of Use, Stockopedia is a financial news & data site, discussion forum and content aggregator. Our site should be used for educational & informational purposes only. We do not provide investment advice, recommendations or views as to whether an investment or strategy is suited to the investment needs of a specific individual. You should make your own decisions and seek independent professional advice before doing so. Remember: Shares can go down as well as up. Past performance is not a guide to future performance & investors may not get back the amount invested. ?>
---
---

Shoe Zone plc is a footwear retailer in the United Kingdom and the Republic of Ireland. The Company offers women's shoes, men's shoes, boy's shoes and girl's shoes. The Company's online offering combined with its store network enables customers to shop through multiple channels. The Company operates from a portfolio of approximately 550 stores. Its customers purchase all of the products available in stores, as well as an additional approximately 400 product styles. The Company sells over 20 million pairs of shoes per annum. The Company has operations in various countries, including Germany, Italy, Spain and France. The Company's distribution center is located in Leicester, England. The Company's subsidiaries include Castle Acres Development Limited, Shoe Zone Retail Limited, Zone Property Limited, Zone Group Limited, Shoe Zone (Ireland) Limited, Shoe Zone Pension Trustees Limited, Stead & Simpson Limited, Zone Footwear Limited, Zone Retail and Walkright Limited. more »

LSE Price

Rubix Group International Limited is a United Kingdom-based supplier of industrial maintenance, repair, and overhaul (MRO) products and services. The Company is a authorized distributor for branded MRO products and its portfolio includes transmission and automation, fluid power, machining, assembly, tools and protective equipment. The Company serves various industries, such as automotive, cements and aggregates, chemicals, glass, food and beverages, power and utilities, industrial engineering, metals, recycling, pulp, paper and packaging and transport. more »

LSE Price

XP Power Limited is a United Kingdom-based developer and manufacturer of critical power control components for the electronics industry. The Company provides power solutions, including alternating current (AC)-direct current (DC) power supplies and DC-DC converters. The Company's segment include Europe, North America and Asia geographical. It designs-in power control solutions into the end products of blue chip original equipment manufacturers, with a focus on the industrial, healthcare and technology sectors. Its product categories include high efficiency/convection-cooled, chassis mount/open frame, configurable, external, encapsulated and printed circuit board (PCB) mount, DIN rail, baseplate-cooled, through hole mount, surface mount, light-emitting diode (LED) drivers and distributed power/hotswap. more »

LSE Price