Small Cap Value Report (9 Sep) - SAL, HYDG, MDZ, BRY, ESCH
Good morning! One of my favourite small growth companies is Spaceandpeople (LON:SAL), which I was able to get into at 86p in a secondary Placing (disposal of early investors' stakes) a few months ago. It was obvious to me at the time that this was a remarkable bargain, because EPS was heading towards 10p, and this innovative company had created its own niche from scratch, and had delivered  growth for the last five years. Management are impressive too - just the sort of canny entrepreneurs that you want to back. So to my mind the price was at least 50p light, and since then it has risen by over 40p, so I was right (although getting in at a 15% discount to the market price at the time was a bit of a coup too!).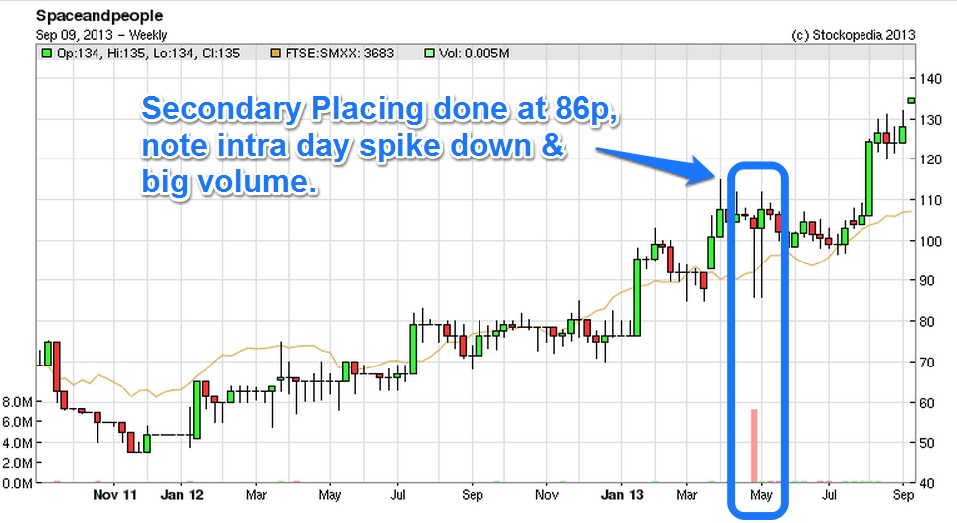 Spaceandpeople manage "pop up" shops & kiosks on behalf of shopping centre owners, optimising the income from such sources in each shopping centre, and also managing promotional activities within shopping centres (e.g. new product launches, such as new cars). Both Spaceandpeople, and the shopping centre landlord get a cut of the income generated through these activities. Best of all, SAL effectively invented this market, and have no significant competition, and it is an area they now dominate in the UK and Germany, and has strong barriers to entry. So the future is all about developing these existing markets, and entering new geographies. I believe it is likely to be a much bigger company than now, in say 5 years time, and my intended holding period for the shares is forever, providing the story doesn't change and the valuation doesn't get too high. Here is the graphical history, which is pretty impressive in my opinion:

Anyway, their interim results to 30 Jun 2013 look good. Gross revenues are up 46% to £18.2m, and net revenues (after the landlord's share of income has been paid over) is up 29% to £6.66m. Profit before tax is up a whopping 60% to £613k, although it should be noted that profits are heavily weighted to H2, so the full year profit growth is likely to be a lower percentage against last year.
Assuming the same sort of H1/H2 split as last year, then broker consensus of…

Unlock this Article with a 14 day free trial
Already have an account?
Login here