Small Cap Value Report (Fri 20 Oct 2017) - REC, ESG, BOOT
Good morning!
Graham here.

It's been suggested that we insert a standard disclaimer/information notice for new readers, so here goes:
Please note that these reports are just our opinions, and do not constitute investment advice.
We are particularly open to suggestions to cover stocks with market cap of less than £500 million. We cover a range of industries but tend not to cover oil, mining or other natural resources, REITs, investment vehicles, and the like.
Best wishes,
Graham
---
Share price: 45p (-5%)
No. of shares: 199.1 million
Market cap: £90 million
This is a currency asset manager which I last covered in April.
AUME (assets under management equivalent) started the year at $56.6 billion, and are now at $61.2 billion, after another quarterly increase.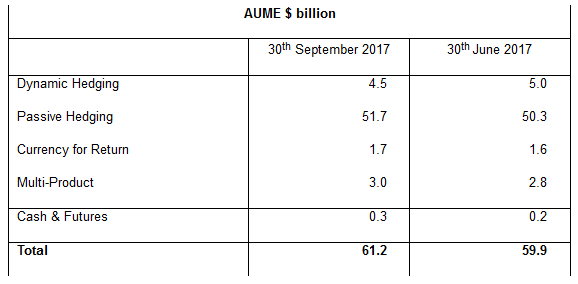 As you can see, the vast majority of the AUM is in hedging products. This is either a cheap passive hedge or in a momentum-oriented "dynamic" hedge which tries to maximise the client's exposure to currencies which are strengthening.
Despite the increased size of the business, the flows were disappointing. There was a net withdrawal by clients of $1 billion, offset by market/exchange rate gains of $2.2 billion.

This is noteworthy:
For UK-based clients, Dynamic Hedging achieved cost-effective protection of currency gains from sterling's depreciation in the six months following the EU referendum.  However, persistent weakness in sterling meant negative returns and cash flows were unavoidable.  As a result Record's remaining UK-based Dynamic Hedging clients converted their mandates to Passive Hedging or terminated during the period.
If I understand that correctly, it sounds like Sterling holders eventually capitulated in terms of trying to use the more sophisticated Dynamic Hedging product, and instead simply sold out the rest of their Sterling holdings - either with Record's Passive Hedging, or with somebody else.
Taking a glance at the chart against the Euro, August was a particularly difficult month for Sterling, and Sterling sellers finally capitulated around then: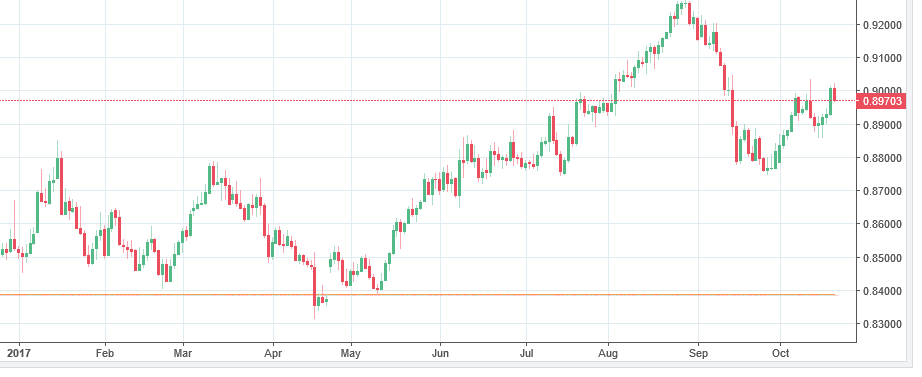 It's a bit disappointing that Record's Dynamic Hedging didn't prove its worth to clients over this period. But I suppose we are talking about a timeframe when there was no benefit to be gained by waiting to hedge, so there wasn't much of…

Finish reading with a 14 day trial
Already have an account?
Login here