Small Cap Value Report (Fri 4 Oct 2019) - GRG, SCS
Hi, it's Paul here, with Friday's SCVR.
I'm starting early (writing this on Thurs evening) because am meeting my stockbroker for a boozy lunch in the city on Friday. Hence I want to get this out of the way, so as not to short-change my readers here.
ZANE afternoon tea at Claridges
Before we start though, I just wanted to report back about my charity auction for afternoon tea with me at Claridges last week.
Ken & Cheryl (readers here for several years) very kindly sent me a gift, of a voucher for afternoon tea for two at Claridges. I thought let's raise a bit of money for the Zimbabwe charity that I visited earlier this year, ZANE. So I invited bids for subscribers here to join me.
A subscriber here, called Sanjay, submitted the highest bid, and we met up to enjoy afternoon tea & had a terrific discussion about shares, property, economics, you name it! It was a really enjoyable meet up - he set the agenda. We're meeting up again to have another session, on balance sheets, which I'm happy to do in return for another generous donation to ZANE from Sanjay.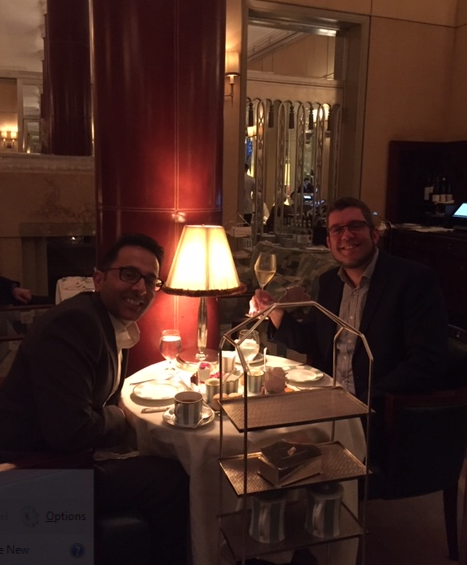 We now have quite a few Stockopedia subscribers who have engaged with ZANE, and are making regular donations. I'm so pleased about that. No matter how bad my portfolio gets, I always put it into the perspective of the terrible poverty I saw in Zimbabwe earlier this year. People there somehow managed to just get on with life, despite living in often appalling conditions.
I know that many subscribers already have your own charities that you generously support. My trip to Zimbabwe (at my own expense) to see ZANE's activities for myself, and meet virtually all its highly dedicated team there, means that I've done the operational due diligence for you on ZANE, much in the same way that I try to assist you with due diligence on shares, in these reports. Therefore, subscribers can donate to ZANE knowing that its work really is saving & improving lives on a day-to-day basis. I can't stop thinking about my trip to Zimbabwe, it's on my mind all the time, hence why I'm trying to raise bits & bobs for ZANE whenever I can.
---
Consumer confidence
Every now…

Unlock this Article with a 14 day free trial
Already have an account?
Login here