Superforecasting BooHoo share price - end September 2020
Dear Stocko community,
This is my first post (I am excited and scared at the same time..those red thumbs down...).
I really value and enjoy reading the SCVR daily posts and various enlightening comments from you all Stockopedia users.
This week in particular the "momentum" in the commenting has been taken by the Boohoo (LON:BOO) saga following the Sunday Times expose'.
For every bull there is a bear, lots of valid arguments as to why the SP should keep declining or going up.
Most of us has read the Superforecasting book by Tetlock & Gardner, and well, I thought we could all put our food where our mouths are and see who comes out as the supeforecaster of the future BooHoo shareprice.
So would you like to participate in the game of forecasting the correct answer to the following question?
What would be the share price of Boohoo at close of business on the day the Interim Results are announced at the end of September 2020 (provisionally assumed 25.09.2020)?
The link below will open a poll form that I created in Google sheet. The form looks as follows: simply enter your Stocko username and your numeric answer.
Close of poll: Sunday 19 July.
GOOD LUCK everyone.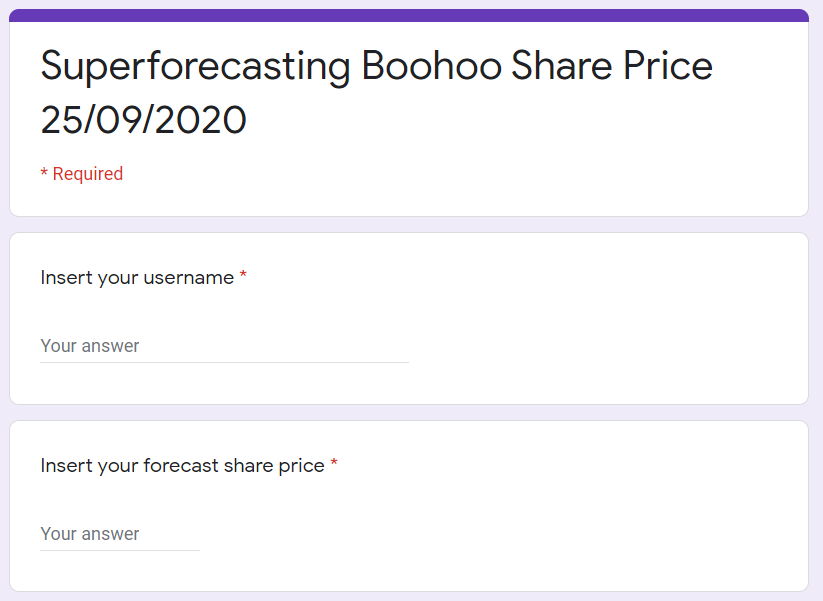 https://docs.google.com/forms/...
The best forecasters constantly revise their forecasts and so you can submit as many forecasts you want. Your last forecast will be your final answer. The username is case sensitive so if you enter more than one forecast, please use your exact username as "R--G" and "R--g" unfortunately are two different usernames in Google sheet. This will save me lots of time in cleaning up the data.
I will publish the results in a spreadsheet format so we can judge the "wisdom of the crowd" and check each others forecasts. I can even publish Interim results, say mid next week? maybe this is going to influence people so maybe not a good idea? what do you guys think?
If this succeeds we can extend the Close of Poll further by one week? more? so we can digest more news and get more accurate forecasts?
You could also post your comments with your forecasts and your reasoning behind, perhaps?
PS: I own a small amount of Boohoo (LON:BOO) shares.…

Unlock the rest of this article with a 14 day trial
Already have an account?
Login here