The 5 most profitable, debt free, dividend paying shares
Here's a list of stocks you might find interesting. It contains five consistent dividend payers that are debt free and highly profitable.
Companies like this are often very successful, with competitive advantages that allow them to grow while paying out much of their earnings as a dividend. Their lack of debt also gives them greater flexibility, which means they are less likely to cut their dividend when they run into problems.
These five companies each have:
A 10-year unbroken record of dividend payments
No interest-bearing debts
A FTSE 350 listing (i.e. no small-caps)
10-year average post-tax return on capital employed (Net ROCE) above 15%
The companies, in order of profitability, are:
PayPoint PLC (at 947p)
Dividend Yield: 4.1%, 10-Year Growth Rate: 8.1%, Average Net ROCE: 34.0%
PayPoint has developed a range of technology solutions to make payments simpler. So for example it has physical terminals in shops such as your local newsagent or Tesco Express. You can use those terminals to pay your bills, top up your mobile phone or make energy meter prepayments.
In terms of online payments, you can use PayPoint technology to pay for parking via your mobile phone, and it was one of the early developers of internet payment services, which it still provides for sites like MoonPig and WHSmiths.
The chart below shows how successful the company has been over the years.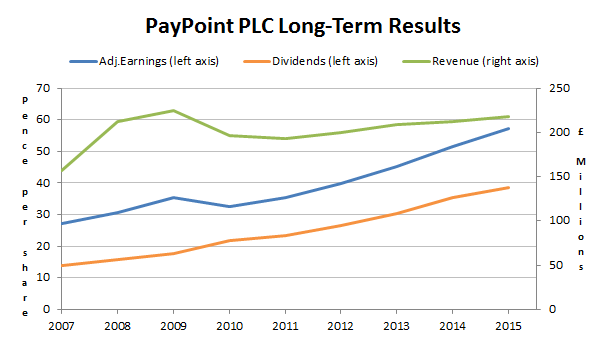 As a technology business, it doesn't have to spend vast amounts on new factories or other capital expenses (capex) in order to expand. Its average net ROCE is extremely high at 34% and capex is usually about 20% of net profits, which is quite low. As a result, the company can pay out most of its earnings as a dividend and still grow rapidly.
I don't own the company, but I think I would be happy to, although I haven't run it through my investment checklist.
IG Group Holdings PLC (at 785p)
Dividend Yield: 3.6%, 10-Year Growth Rate: 18.9%, Average Net ROCE: 25.9%
IG Group is the world leader in spread betting and contract for difference (CFD) services. It is also the UK's leading provider of foreign exchange (forex) trading services for retail traders.
Recently it moved into execution-only stockbroking, where it hopes its advanced technology will provide a good alternative to existing execution-only platforms.
As with PayPoint, IG is primarily a technology business with no need to build factories or buy…

Unlock the rest of this article with a 14 day trial
Already have an account?
Login here