Fast-moving stocks that are riding a momentum wave
Momentum strategies have delivered some of the strongest returns from equity markets over the past few years - certainly in the UK and Europe. In these kinds of bullish conditions, models that zero-in on 52-week highs, earnings forecast upgrades and earnings surprises have produced impressive results. An even more straightforward momentum strategy is to just look for stocks with the strongest price momentum in the market. It sounds simple, but it's a strategy that's proved to be consistently profitable.

As a reminder, momentum strategies are based on the idea that price trends persist - both up and down. It's a powerful driver of stock market profits, which is why we model several momentum strategies at Stockopedia. It's also why the MomentumRank is a key component of Stockopedia's StockRank. A couple of months back I wrote about some of the behavioural 'drivers' that can make these strategies so effective.
One of the original Price Momentum strategies was actually a test devised by researchers Narasimhan Jegadeesh and Sheridan Titman. They were two of the very earliest academics to tackle the concept of momentum and their landmark studies used very straightforward techniques that still work well today.
The strategy focuses solely on a stock's price strength relative to the rest of the market. Jegadeesh and Titman found that momentum often lagged for the first month after new news was issued about a stock. But then it accelerated over the subsequent three to 12 months.
In their paper they wrote: "The strategy we examine in most detail, which selects stocks based on their past 6-month returns and holds them for 6 months, realises a compounded excess return of 12.01% per year on average."
This strategy is one of several momentum screens tracked by Stockopedia, and we've generally seen consistently robust returns from it over the past six years - with a 38.8 percent gain seen over the past 12 months alone. (Remember that those returns are based on quarterly rebalancing and ex-costs).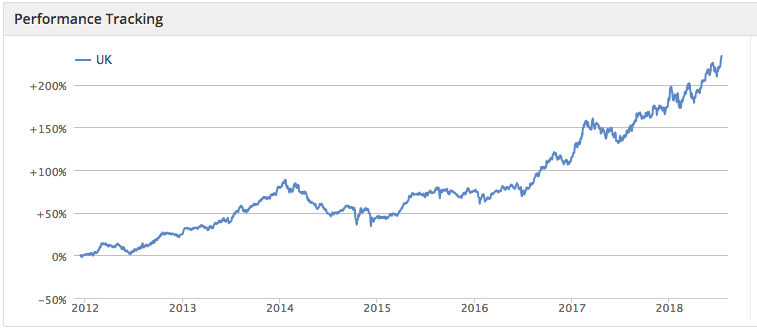 One problem with momentum - and one of the reasons some believe it exists at all - is that it collapses farthest and fastest when confidence dries up. You only need look at how the momentum trade crashed during the financial crisis 10 years ago to see the damage that can unfold.

…

Unlock the rest of this Article in 15 seconds
Already have an account?
Login here