SIF Folio: Gordon Dadds makes me want to break the rules
In his recent NAPS folio 2019 update, Ed Croft discussed the difficulty he had including Plus500 in his 2018 NAPS folio. He admitted that his hate for the stock left him tempted to break his NAPS rules and exclude it from his 2018 portfolio.
Plus500 went on to be the biggest winner in the 2018 NAPS by a large margin.
It's a lesson in the importance of following the rules and ignoring our monkey brain -- the emotional voice in our head that tells us not to do things we may find challenging.
I bought Plus500 for the SIF portfolio last year and felt similarly uncomfortable. But the stock went on to be one of my biggest winners in 2018, delivering a 9-month total return of 37%. This helped to offset the losses from less controversial companies which failed to perform.
The lesson learned is that if you're investing by the rules, you have to follow the rules. The whole point of a systematic approach is that it enables us to avoid cognitive biases and act consistently.
A difficult stock to like?
All of this brings me to the company I'd like to consider this week, Gordon Dadds (LON:GOR).
This £55m AIM-listed firm has recently appeared in my SIF screen results. It's a legal services business that's expanded through acquisitions. This group now includes a number of specialist legal and consulting firms alongside the main Gordon Dadds business, which is described as a full-service law firm. (You can find a list of the group's companies here.)
This group only listed in August 2017, so it doesn't have a very long track record as a public firm. Acquisition-led growth can also be a risky strategy, especially in service businesses, where most of the assets walk out the door each night.
One final aspect of this business that I think is worth noting is that its business model is based around buying out traditional partnerships. A statement in Gordon Dadds' recent interim results highlights some of the expected benefits of this approach for partners in acquired firms: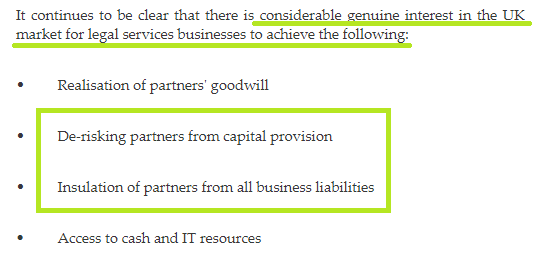 Will this improve the quality of the services provided by the acquired businesses? I'm not sure. As Graham Neary asked when he covered this stock last year, if a partnership…

Unlock this Article with a 14 day free trial
Already have an account?
Login here