Small Cap Value Report (Thur 28 June 2018) - KOOV, TND, AUK, GOR, XPS, SPRP/FA.
Morning folks,
Quite a few announcements today.
I'm going to skip the trading statements that are "in line with expectations" - they aren't really news.
A few updates which did catch my eye, for one reason or another:

---
Koovs (LON:KOOV)
Share price: 19.75p (+13%)
No. of shares: 175 million
Market cap: £35 million
This isn't a proper news announcement, either, but I just thought it was interesting!
Koovs, the online fashion retailer, has achieved a big net promoter score (NPS) among customers in a survey conducted by an "independent industry research company".
I'm not familiar with this research group - it is supposedly rather large in the Indian market.
Figures for Q1 2018 show Koovs with an NPS of 61%, 16 points ahead of its nearest rival and performing top in all six customer categories of Price, Product Variety, Product Quality, Ease of Navigation, Delivery and Post Delivery Experience.
I've just pulled out the interim results to confirm my suspicion the Koovs still had a negative gross margin, as of the most recent figures: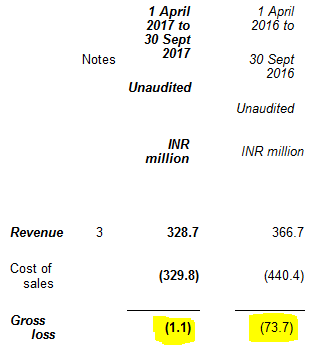 The company is moving in the right direction, certainly.
Sosandar (LON:SOS), another small online fashion play, should also see margin improve as it scales up, thanks to increased buying power.
But a negative gross margin is a major red flag in my book. It means the company is selling a dollar for 90 cents (or one rupee for 50 paise). No wonder customers love it so much!
It's easy to have very happy customers when you are selling things at a loss. What's more difficult is to keep your customers happy and make a profit at the same time.
The metrics have definitely been moving the right way for Koovs, but for me it still needs to get across that threshold of profitability at the…

Unlock the rest of this Article in 15 seconds
Already have an account?
Login here