Small Cap Value Report (Fri 8 Dec 2017) - CER, XAF, PRV, PCF
Good morning,
This is the placeholder article, but I'd also like to draw your attention to my recent interview with Cerillion (LON:CER), which was originally published to subscribers on my mailing list but can now also be found on Stockopedia at this link.
It's a software company which I had already covered a little bit in the SCVR, before realising that the opportunity to interview management would present itself. It's got a StockRank of 90 and a PE ratio of c. 14-15x. So I hope this interview might be of interest to some of you.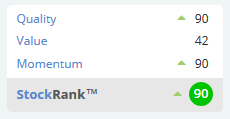 Regards,
Graham
---
Share price: 183.6p (-1%)
No. of shares: 137 million
Market cap: £251 million
Proposed acquisition of Punter Southall
This is a mid-tier, domestically-focused pensions consultancy. It listed earlier this year, and this is the first time I've looked at it. Thank you for suggesting it in the comments.

Checking the shareholder register, there are some big names in the investment industry backing it up.
Yesterday it announced interim results and a very big (£153 million) acquisition.
The deal, assuming it goes ahead, will consist of £92 million in cash and up to 32 million shares, along with the sale of an HR trustees business worth £8.5 million.
To find £92 million in cash, Xafinity wants to raise £70 million in New Money and increase its debt facilities.
Its total (gross) debt at end-September was £29 million, offset by some cash. It is now seeking to increase debt facilities to provide a maximum of £80 million in borrowings.
Rationale
The target company is another mid-tier provider of institutional investment advice, so the rationale is as you would expect:
We believe that a successful combination of these two premier mid-tier providers would create the pre-eminent mid-tier firm in the pensions consultancy market, with significantly stronger growth prospects than each business would possess individually.
The "big 3" firms in the space are Willis Tower Watson, Aon Hewitt and Mercer. So the questions now are (1) will Xafinity be better-positioned to compete with them? (2) what about the XAF shares?
Current Trading at Xafinity is fine, with revenues up c. 2%…

Unlock the rest of this Article in 15 seconds
Already have an account?
Login here