SIF Folio: Money from waste makes Sylvania Platinum a tempting choice
This week I'm looking at one of the top-ranked stocks on Stockopedia. It's not necessarily a company you'd expect to fit this description. As a small-cap, single-commodity miner operating in South Africa, Sylvania Platinum isn't without risk.

This very profitable firm currently qualifies for my Stock in Focus screen, which hunts for affordable growth stocks. Sylvania also has a StockRank of 98 and has delivered a very solid financial performance in recent years. In short, it's the kind of mining stock where I might be prepared to risk my own cash.
Before I get started, let me deal with a couple of potential objections.
What about diversification?
Regular readers will remember that I added mining royalty specialist Anglo Pacific Group to my SIF fantasy fund last week. Adding another mining stock this week might seem unwise in terms of diversification.
Generally, I'd agree. But in this case I think I might actually be improving the balance of the portfolio across sectors. Here's how SIF looks at the time of writing: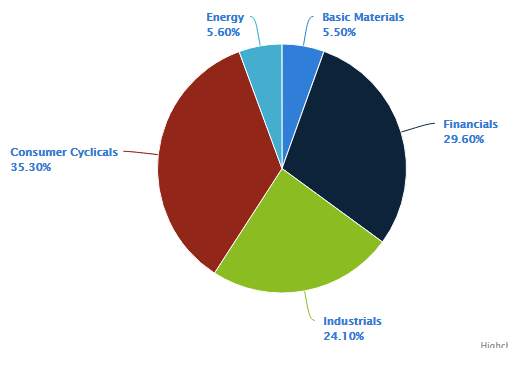 Two things stand out to me.

Firstly, the portfolio's combined investment in Energy and Basic Materials stocks is less than half the exposure to other sectors.
The second thing you'll notice is that five of the 10 top-level sectors are missing altogether. The reason for this is that there aren't currently any qualifying stocks from these (largely defensive) sectors in my screen.
I've discussed this situation and my portfolio's cyclical bias before, here. For now, I'll just say that I am willing to add more commodity stocks to the portfolio if they pass my tests.
Aren't small-cap miners usually sucker stocks?
I think it's fair to say that you have to kiss a few frogs to find your prince in the small-cap mining sector. My approach is to ignore all the companies with no revenue and very few assets (explorers). Instead, I focus on companies with solid production assets and fairly reliable cash flows.
Stockopedia boss Ed Croft commented in his 2018 NAPS article that his rules-led approach "has a good record with mining stocks". He cited Central Asia Metals, a stock which generated a 30% gain for the NAPS in 2017, plus a more modest profit for SIF during the same period.
I've also…

Unlock this Article with a 14 day free trial
Already have an account?
Login here