SIF portfolio: IAG and some new stocks for the International SIF
As I write this on Monday, the SIF portfolio is looking a bit frayed around the edges, thanks to the market wobble we've seen over the last couple of weeks. So far none of the companies in the portfolio have been hit by specific bad news. It just seems to be general round of profit taking.
This is no real surprise after such a long bull run. But investors have grown used to buying the dips and seeing shares surge higher a few weeks later. Will this time be the same, or are we heading for a more robust correction? It's not yet clear.
What may prove interesting will be to see how the portfolio performs in more mixed market conditions.
Red ink could be useful
When everything goes well, as it did last year, it's often hard to work out how to make improvements to your stock selection process. A market correction could prove costly for the portfolio, but it might also highlight areas where I could improve my screening rules.
So far this year, the SIF portfolio's performance has largely followed that of its FTSE All-Share benchmark. I'll be watching for any divergence from this from which I might learn: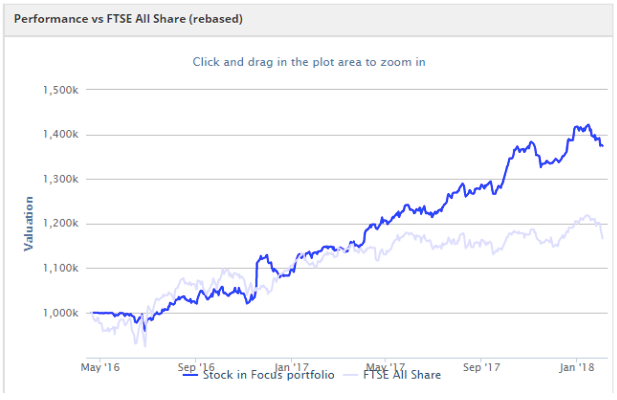 International SIF update
As promised last week, here's an update on the three latest shares to join my International SIF portfolio, which I started building in November.
The first of these is London-listed IAG, so I've taken the opportunity to take a closer look at some of the downside risks facing investors in this highly-ranked stock.
International Consolidated Airlines (LON:IAG)
The first UK-listed stock to join the portfolio is IAG, which owns British Airways, Aer Lingus, Iberia and Vueling. This stock already features in the main UK SIF portfolio, but as these two projects are unrelated this doesn't matter.
IAG's performance since it I added to the SIF in June has been pretty flat. But the group's trading has been strong. Third-quarter results published in October showed that the group's operating profit rose by 11.2% during the first nine months of the year. Operating margin for the period was 12.3%, up from 11.2% in 2016. Broker upgrades have also trended higher since June: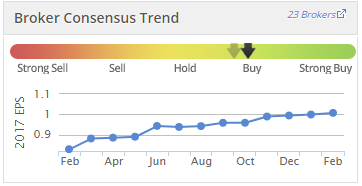 What seem to be holding the shares back are cyclical risks,…

Finish reading with a 14 day trial
Already have an account?
Login here