Small Cap Report (11 Mar) - HYDG, PUR, BRY, ESCH
Pre 8 a.m. comments
I'm having a quick scan of the 31 Dec 2012 final results for Hydrogen (LON:HYDG) first this morning, as it's a company which has come up on my radar as looking reasonably-priced before. Hydrogen is a mainly UK recruitment group They have some overseas operations too, but 81% is UK, so clearly 2012 will have seen challenging conditions.
It looks as if a lacklustre year was expected, as Stockopedia shows normalised EPS of 10.3p in 2011, forecast to fall to 8.6p in 2012. The actual number is 9.56p for diluted EPS (which seems the right comparative number, as prior year was 10.24p), so that looks like about a penny above expectations for the 2012 results.
At 95p this puts the shares on a PER of 10, which looks about right for a business that is in a competitive sector, and is not showing any profit growth. The question is how much should we be anticipating earnings growth from a recovering economy? That's really up to each investor to decide, but personally I'm not prepared to pay a significant premium, given that there are so many uncertainties about an economic recovery that is at best tentative.
The main attraction with Hydrogen is the dividend, and with the final dividend being raised slightly to 3p, plus the 1.5p interim dividend, that gives a yield of 4.7%, which is pretty good.
Their balance sheet looks sound, with net debt having risen from £1.4m to £2.8m, mainly due to higher working capital. Overall the balance sheet is fine, with £31m in current assets, less £20.9m in current liabilities, giving a healthy surplus of net current assets of £10.1m, and only £127k in long term liabilities.
In the context of a £22m market cap, making £3.4m operating profit in 2012, those balance sheet numbers look pretty solid to me. So it's a fairly safe investment, which looks OK value to me, although I'm not exactly jumping around with excitement at a PER of 10. There's probably fairly limited upside on that in the short term, but it looks a sound company which I will keep on my watch list, and buy if it dips to 80p or less in a market downturn.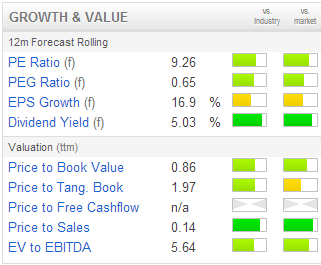 The PER drops to 9.26 on current year forecast EPS, and the dividend yield…

Unlock the rest of this Article in 15 seconds