Small Cap Report (2 April) - NXR, LOQ, RNWH, DGB, IND, C21
Pre 8 a.m. comments
Good morning! Four days with no adrenaline shots from the markets has been a struggle, but we've survived and thankfully things are about to get going again!
A share I have been keen on for some time is showers, tiles & adhesives group Norcros (LON:NXR). Why? Because it's cheap (low PER, decent dividend yield, and a solid balance sheet - once you find the freehold property that more than offsets the pension deficit, and see that net debt is only 1.1 times EBITDA).
They have announced an interesting acquisition this morning, financed by debt, therefore it is obviously earnings enhancing. The multiple paid seems reasonable, and the business (called Eurobath International Ltd) is an obviously good fit with Norcros - being a manufacturer and global distributor of bathroom fittings such as taps, mixer showers, etc.
The initial cash consideration is £11m, plus debt assumed of £0.9m, with additional performance-based deferred consideration of £4.1m. I like the look of this deal, since Eurobath (which is based in Somerset) has delivered compound revenue growth of 16% p.a. in the last three years, and produced the following results for year-ended 31 Dec 2012: turnover £25.6m, EBITDA £2.5m, PBT £2.1m. So if we assume just over 20% tax, then I make that earnings of about £1.6m, and a PER of 7.4 (based on initial cash consideration plus debt assumed, but ignoring deferred consideration because that will pay for itself based on performance targets, I assume).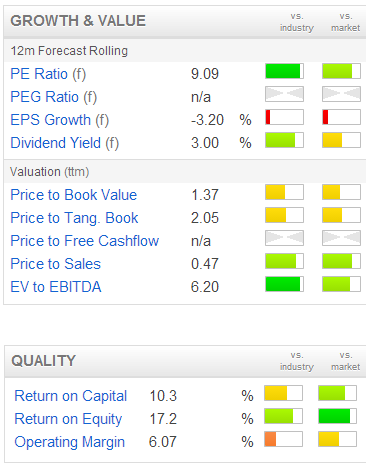 So it looks to me as if Norcros have bolted on some growth at reasonable price (GARP) with this deal, which makes Norcros more of a GARP share itself.
I am surprised that Norcros have been able to extend their already sizeable debt facility from £51m to £70m on existing terms, so clearly the Bank(s) have a lot of confidence in them, probably helped by the freeholds owned. It's clearly a good deal, but I think Norcros will need to reassure the market that the level of debt is manageable. Although I note that they only had £20.2m net debt at the last reported date of 30 Sep 2012, and as mentioned before this represented only 1.1 times EBITDA. So the enlarged facility seems to give them plenty more headroom.
I remain very keen on Norcros, as the…

Unlock the rest of this Article in 15 seconds