Small Cap Report (31 May) - HVN, VNET, DQE, RGO, MRM
Good morning!
It's a quiet morning for announcements, so I won't split the report into pre and post 8 a.m. sections today.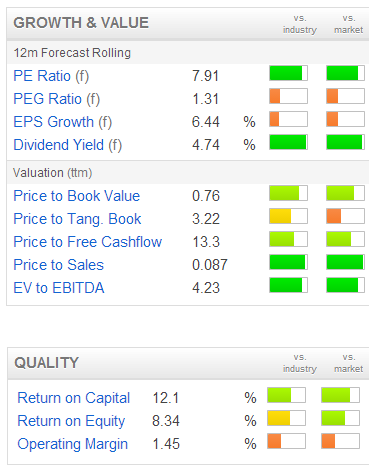 Harvey Nash (LON:HVN) announces a mixed trading statement. However, the key summary paragraph indicates that trends improved into Q2, and that they are confident of meeting expectations for the full year. That's all that matters really, so despite having some negative detail, the overall picture sounds OK, so it's not a profits warning.
Harvey Nash has been on my watch list for some time, and as you can see from the table on the left, it looks good value on the key PER and dividend yield bases.
It also reported net cash of £5m at the last Balance Sheet date of 31 Jan 2013.
It's diversified geographically, with 62% of revenues coming from outside the UK/Ireland.
Overall, it gets a positive quick review from me, and I might buy some on any dips.
Vianet (LON:VNET) (one of my largest personal holdings) announce the recruitment of a veteran Non-Exec, with what looks like highly relevant industry experience. So I like the look of that. Good Non Executive Directors can add enormous value to a business, so I like to see relevant & experienced people being recruited, not just box-tickers who happen to be mates with the CEO. They're supposed to be independent of course, but not many actually are in reality.
Vianet are due to announce results on Tue 11 June. So let's hope they've finally made some progress on contract wins, after interminable delays.
Looks like a quiet start today, with the FTSE 100 Futures essentially flat (down 5 points). Market opens in a few seconds, so I'll hit the publish button now.
I see that shares in Harvey Nash (LON:HVN) have dipped 2p to 69p. I'm not surprised, as the wording of the IMS this morning did begin to read like a profits warning, but then says they are in line with expectations at the end. So not the best presented IMS I've seen, so that might give me a buying opportunity, although I'd want a lower price than this to give me enough margin of safety.
I've mentioned…

Unlock the rest of this article with a 14 day trial
Already have an account?
Login here