Small Cap Report (5 Apr) - GDP, SRT, IGP, PLA
Pre 8 a.m. comments
Good morning! Looks like it's either a very quiet day for announcements, or investegate is broken again!?
I have a small long position in Goldplat (LON:GDP), unusual for me as it's both overseas and in the resources sector (both of which are usually things I avoid), but rules are made to be broken. It makes steady profits from recycling/recovery of Gold from equipment used in Gold extraction. There's an unusual announcement this morning concerning the acquisition of a 10% stake in the company by Fidelity, which explains the unusually large reported trades that I noticed recently.
The stake was sold by Artemis, who retain 10.4%, and interestingly (and unusually) have entered into a voluntary 12-month lock-in with their remaining shares. That's quite an innovative solution in preventing the market worrying about how they might dispose of their remaining shares, and means they won't be dribbled out into the market piecemeal thus depressing the share price. By stating that, and signing a 12 month lock-in, Artemis are helping to prevent an overhang occurring. I like the creative thinking there, although one hopes it's not an April Fool, give the date of the lock in agreement?!
Goldplat have also slipped in a brief statement at the end of this announcement, saying;
Russell Lamming, CEO, stated: "The Company is delighted to welcome Fidelity to its shareholder register.  Fidelity's notable investment in the Company endorses the Board's belief that Goldplat offers shareholders significant upside potential through its robust cashflow generation and ability to self-fund the sustainable growth of gold recovery operations in Africa while rewarding shareholders with progressive dividend and share buy-back policies."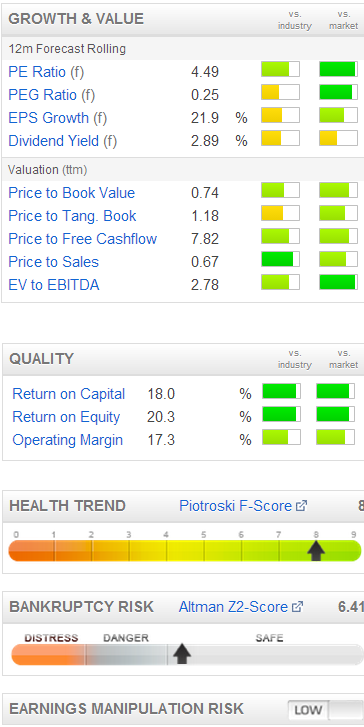 Again, a bit of an unusual way of doing things, but there we go.
The shares certainly seem good value, with net cash, a decent dividend yield, and one of the lowest PERs I've seen in a while from a company with net cash.
Check out the valuation section of the StockReport (on the left).
Software Radio Technology (LON:SRT) has issued a trading update which says…

Unlock the rest of this Article in 15 seconds