Small Cap Report (5 Mar) - CUP, FOUR, BREE, MACF, JSG, ISG, ZTF
Pre 8 a.m. comments
Regular readers will know that I don't like Cupid (LON:CUP) at all, based on evidence online (try Googling for customer reviews of some of their biggest brand names) of their operations apparently being less than ethical. This was reinforced by a recent BBC Radio Five Live expose of Cupid's modus operandi, which can be listened to here, and specifically names Cupid plc.
I cannot see anything in their results narrative which addresses these concerns, other than rather vague statements that, "...it is important for the Company to have a medium term goal of improved quality in the eyes of the consumer ... we believe this will cost an additional £2m in brand building marketing across several of our key profit generating markets ...". Hmmmm.
The figures themselves (for the year ended 31 Dec 2012) look very good, with revenues up 51%, adjusted EBITDA up 45%, cash having almost doubled to £14.1m, and the final dividend raised to 3p. All good stuff, but if this is being achieved by misleading customers, as the BBC allege, then it cannot have a very long shelf life. Therefore a very low PER is fully justified.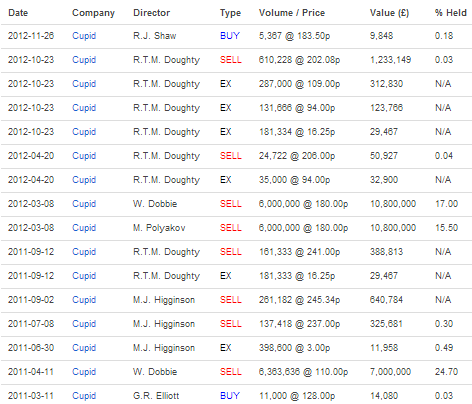 I believe that Director share transactions often give you the best indication of what management really think about a business, and the Director share sales at Cupid from the Stockopedia table (last item on the menu under "Accounts" on the StockReport) says it all - over £30m banked in Director sales in the last two years!
Follow the money is my view, and the most knowledgeable money has been getting out.
Post 8 a.m. comments
Impressive results have been issued today by 4imprint (LON:FOUR), with underlying EPS up 29% to 28.3p, which seems way ahead of broker consensus of the 22.4p and 22.9p that are shown on Stockopedia and a competitor website for year ended 31 Dec 2012. The difficulty is knowing whether the EPS forecasts have been calculated on the same basis as the adjusted reported EPS figure, which I simply don't know.
Another way of checking whether actual is better than forecast, is to look at the actual EPS growth, which in this case is +29% against +21% shown on Stockopedia forecasts, so it…

Unlock the rest of this Article in 15 seconds