Small Cap Report (8 Apr) - IND, GBO, VLK, MEC, SNCL, FDL, GHH, ECK, SSY
Pre 8 a.m. comments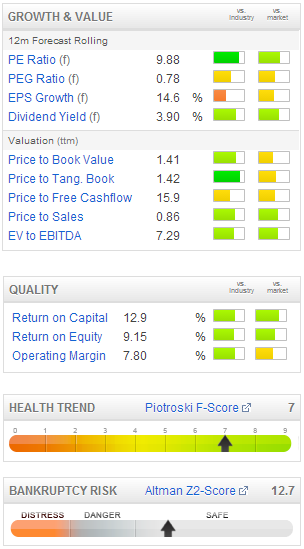 A UK fund, called New Pistoia Income Ltd has this morning announced an increase to above 4% in Indigovision (LON:IND). So what, you may ask? What intrigues me is that this is a former >3% shareholder in the company, which sold out in Dec 2011. So here they are, as a fund that knows IND well, buying back in. Therefore it seems to suggest that New Pistioia share my belief that the turnaround strategy of the new CEO at IND is credible, and stands a good chance of delivering very much better performance this year & next year.
As I've mentioned before, the main risk with IND currently is that they need to achieve an H2 (6m to 31 Jul 2013) of more than double H1 in EPS terms, in order to achieve forecast full year EPS of 32.7p. Management are upbeat about the prospects for H2, due to projects in the pipeline, and new product launches, but I can understand some investors wanting to see the figures in the bag before relying on them.
Of course the shares will be a good bit higher if you do wait for confirmation, so personally I'm anticipating success, & hoping for the best. Investing is ultimately about backing management, and I don't recall seeing a more intensely focussed CEO than IND's, who is really leading from the front to improve the company's performance in many areas. That has to deliver better figures at some point.
Results for the year ended 31 Dec 2012 from Globo (LON:GBO) look very impressive on the face of it. Turnover (from continuining operations) up 67%to E46m, EBITDA up 42% to E24m, and profit before tax up 43% to E17.2m.
As mentioned before, this company uses aggressive accounting policies, including capitalising a large amount of development spending each year. So when you look at the cashflow statement, it shows a very different picture.
Net cash from operating activites was E13.2m, but E11.6m was spent on purchases of tangible & intangible assets - in previous years this has been overwhelmingly capitalised development spending, which are internal costs, so arguably should really be fully expensed through the P&L each year.
This year there is also a…

Unlock the rest of this Article in 15 seconds