Small Cap Value Report (1 Mar 2016) - SOM, TRB, JSG, MYSL, STM, HYD
Good morning!
Sorry there was no report yesterday - I've been in bed for the last 36 hours, with a high temperature. There seem to be a lot of lurgy around at the moment. Anyway, thought I'd better drag myself out of my pit so as not to miss the email deadline of 1pm two days on the trot.
---
Share price: 148p (up 10% today)
No. shares: 56.1m
Market cap: £83.0m
(at the time of writing, I hold a long position in this share)
Results y/e 31 Dec 2015 - this company is the global market leader for laser-guided concrete screeding machines. There was a lot of useful information in my interview with the CEO on 20 Jan 2016, here.
Good results were expected, as the company has issued several upbeat trading statements, including this one on 7 Jan 2016, indicating that EBITDA would be "materially ahead" of market expectations, following a strong Q4.
These numbers look terrific, a few highlights & comments;
Revenue rose 18% to $70.2m - note that sales in the US did the heavy lifting, with sales to RoW actually falling: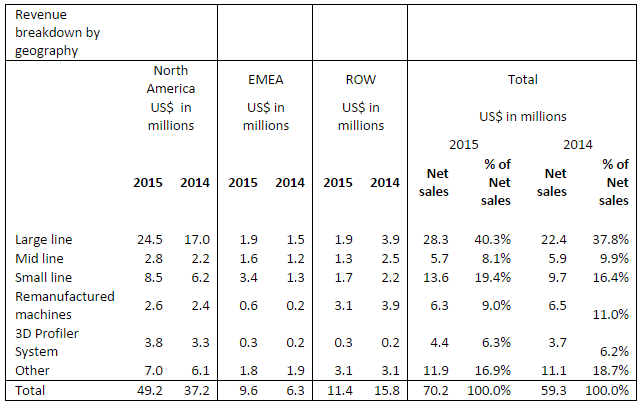 A friend emailed me this morning about Somero's results, saying, "Forget China, this is a simple all out play on the US economy – yee haw!" He's hit the nail on the head. With US sales now representing 70% of the total, and growing the most in absolute terms (although EMEA grew more in percentage terms, from a low base), then it's the state of the US economy which matters most.
Somero management told me that the US economy was strong, in our interview, and today's commentary from the company reiterates this;
Healthy trading momentum in the US has carried forward into 2016 from the strong finish to 2015.  The momentum is driven by demand for replacement equipment, fleet additions, technology upgrades and new products.  The underlying non-residential construction market fundamentals in the US remain strong, evidenced by lengthy project backlogs for our customers that extend well into 2016.  This gives us confidence in our growth prospects for 2016.
I'm somewhat confused, as we seem to be getting highly contradictory signals about what's going on in the US economy. Manufacturing is apparently in recession, yet Somero are reporting boom-like conditions in their sector - which is primarily related to the…

Unlock this article instantly by logging into your account
Don't have an account? Register for free and we'll get out your way
Disclaimer:
As per our Terms of Use, Stockopedia is a financial news & data site, discussion forum and content aggregator. Our site should be used for educational & informational purposes only. We do not provide investment advice, recommendations or views as to whether an investment or strategy is suited to the investment needs of a specific individual. You should make your own decisions and seek independent professional advice before doing so. Remember: Shares can go down as well as up. Past performance is not a guide to future performance & investors may not get back the amount invested. ?>
---
---

Somero Enterprises, Inc. is a manufacturer of laser-guided equipment. The Company's equipment automates the process of spreading and leveling volumes of concrete for commercial flooring and other horizontal surfaces, such as paved parking lots in North America. The Company's products include S-22E, S-15R, S-15M, STS-11M, S-840, S-485, CopperHead XD 3.0, Mini Screed C, PowerRake 3.0, 3-D Profiler and SiteShape. Its Somero Floor Levelness System monitors Laser Screed performance, operator performance and reports alert percentages of issues. The Somero SiteShape System allows for grade shaping automatically using users' motor grader, dozer or other grading machine. The Somero 3-D Profiler System allows automatic paving of contoured sites using a Somero Laser Screed equipment. The CopperHead XD machine encounters applications, such as chaired rebar, low slump and poor subgrades. The Somero eXtreme Platform (SXP) allows users use their Laser Screed equipment. more »

LSE Price

Tribal Group plc is a United Kingdom-based company, which provides software and services for education management. The Company's segments include Product Development and Customer Services (PD&CS), Implementation Services (IS), Professional and Business Solutions (PBS) and Quality Assurance Solutions (QAS). The PD&CS segment represents the delivery of software and subsequent maintenance and support services. The IS segment represents the activities through which it deploys and configures software for its customers. The PBS segment represents a portfolio of performance improvement tools and services, including analytics, benchmarking and transformation services, and the QAS segment represents inspection and review services, which support the assessment of educational delivery. Its products and services include license and development, implementation, maintenance, professional and business solutions, quality assurance solutions and other systems related. more »

LSE Price

Johnson Service Group PLC is a United Kingdom-based company that provides textile rental related services. The Company is the supplier of workwear and protective wear. The Company operates through Textile Rental segment. The Textile Rental segment is engaged in the supplying and laundering of workwear garments and protective wear; linen services for the hotel, restaurant and catering markets, and high volume hotel linen services. The Textile Rental segment principally consists of workwear garments, cabinet towels, linen and dust mats, are initially treated as inventories. It operates Textile Rental business under the brands, including Apparelmaster, Stalbridge, Bourne and London Linen. Its market workwear rental business, providing a clothing portfolio to the workplace, supported by sourcing supply and aftercare service solutions. Its Johnsons Stalbridge Linen Services offers the laundry service to the hospitality sectors. more »

LSE Price