Small Cap Value Report (1 Oct 2015) - RNWH, DAN
Good morning!
It's a quiet day for news today, which is handy as I have a lunch appointment with some investor friends, so just a brief report today.
---
RNWH
Share price: 330p (up 1.4% today)
No. shares: 61.5m
Market cap: £ 203.0 m
Trading update - a reassuring update today:
The Board expects the Group's results for the year to 30 September 2015 to be in line with market expectations with growth in both revenue and operating profit continuing in the second half.
Cash generation continues to be good resulting in a further reduction in net debt.
The valuation looks reasonable at first sight, given that this is a low margin contracting business (so won't ever command a premium rating):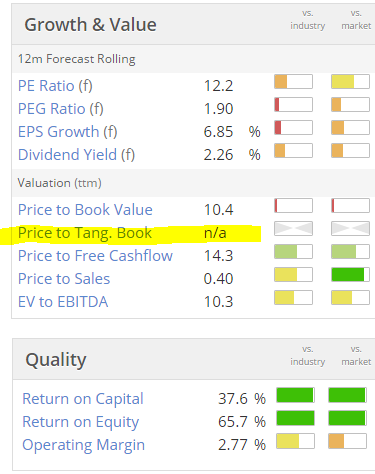 Balance sheet issues - I won't go over all the detail again, but suffice it to say that (for me anyway) this share remains uninvestable, due to it having an extremely weak balance sheet.
I have highlighted above the "Price to Tang. Book" line on the StockReport. This is a very quick way to check if the balance sheet is weak - if this line says "n/a", then that means that the company has negative net tangible assets, as in this case. So when looking at companies, I always glance at this line, as "n/a" is a red flag for me, meaning that more work is needed to check out the balance sheet.
The last reported balance sheet showed a deficit on NTAV of £40.2m, clearly a very weak position.
My opinion - the business is financed by customer deposits, and money owed to subcontractors, so there is a lot of hidden debt, over and above the bank debt. If you ignore this issue, then you're paying too much for the shares, simple as that.
On the positive side, the business seems to be trading well, and has delivered a much improved performance in recent years, growing its operating margin, winning good business from the rail sector in particular, and adding bolt-on acquisitions.
Although when you look at the individual subsidiary accounts, they're really very ordinary businesses, so packaging them together doesn't really add any value. Would you pay a PER of 12 for any of them individually? I very much doubt it. So it's difficult to see why a group of unexciting companies put together should command a PER of 12.
Acquisitions can however create the illusion of growth, although that comes…

Unlock the rest of this Article in 15 seconds