Small Cap Value Report (1 Oct) - BEG, RNWH, PUR, WGB, FDL
Good morning! The UK market is set to open flat today. Begbies Traynor (LON:BEG) are the only UK Listed insolvency practitioners, and business has been slow for several years now - mainly due to Government policy leaning on the Banks to allow zombie companies to continue trading. This has meant that, despite some pretty grim economic conditions since 2008 (now improving), corporate insolvencies have actually been low. Hence Begbies have done several rounds of cost cutting (i.e. reducing staff & closing surplus offices).
I recently bought back into Begbies (in a small way), on the basis that historically insolvencies rise strongly in a recovering economy - partly because there are more buyers for assets, so disposals can occur at a reasonable price, but also because many companies which manage to survive a Recession then fail as their working capital is inadequate to finance expansion.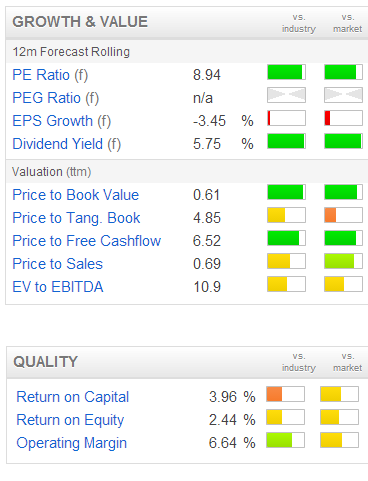 The main attraction of Begbies shares is the generous dividend yield, although it has looked a bit touch & go whether the payout would continue. At the last set of results, the 2.2p total dividend was maintained, so at 39p per share that is currently yielding a generous 5.6%.
Anyway, the reason I mention it is that Begbies has issued a trading update today, in advance of its AGM. This update covers the period from 1 May 2013 to 31 August 2013, and is negative - they say that revenue is down year-on-year, due to "subdued" market conditions, and downward pressure on fee rates. That has been "partially mitigated" by the cost reductions announced previously, in July 2013.
Net debt is "broadly in line with our expectations", and there is nothing upbeat in the outlook statement either, which says that market conditions "show no sign of improving". So I would imagine this is likely to hit the share price by probably around 10% today perhaps, at a guess?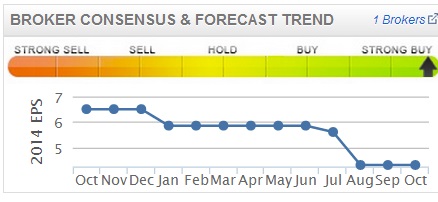 Although as you can see from the Stockopedia graphic on the right, broker forecasts have already been heavily revised down this year, so I would expect the market to only react in a limited way to today's news, which is really just saying more of the same, rather than anything disastrous.
 There is brief…

Unlock the rest of this Article in 15 seconds
Already have an account?
Login here