Small Cap Value Report (1 Sep 2016) - REDD, VTU, LAKE, SDY, AVS
Good morning!
So far, so good with my AirBnB accommodation in Corfu. I'm staying in a lovely, spotlessly clean & well appointed 2 bedroom townhouse, in a perfect location, just a few hundred yards from the old town centre, down a quiet side street (see picture below).
It's costing about £85 per night for the whole house, which would comfortably sleep 4 people. The facilities are vastly better than a hotel, as it's someone's house, therefore has everything one needs when away from home. Having tried AirBnB (admittedly for the first time), for me it's a total no-brainer - vastly better value than a hotel. For this reason, I won't be investing in any hotel shares in the future (not that it's a sector I normally consider anyway - too much capex & debt usually, so very vulnerable to economic downturns).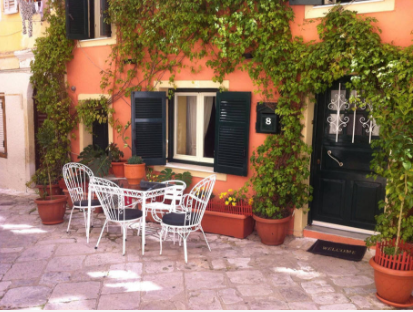 ---
I see that Redde (LON:REDD) has yet again put out excellent results today. It's now risen out of the top end of market caps that I cover (I start to phase out small caps once they reach c.£300m, and REDD is about double that now.). You can't argue with the figures put out today - they're excellent.
Although I have nagging doubts about the risks inherent in REDD's business model - particularly its vulnerability to changes in Govt policy, legislation, etc. That type of business could potentially be severely damaged, or even snuffed out overnight, if the Govt announced dramatic changes to the rules governing insurance companies.
I don't like any business which is fundamentally an unnecessary intermediary. Other people may see things differently, which is fine - that's what makes a market. Personally, if I'm uneasy with any business model, then I don't invest. There are plenty more fish in the sea. Although REDD shareholders will be rightly feeling smug, as it's been an excellent investment in recent years, including a superb flow of increasing dividends - so the profits are undoubtedly real - but sustainable long-term? Who knows?
---
Brighton ShareSoc - 13 Sept
ShareSoc are determined to get a monthly meeting going in Brighton, and I'm also very keen. The main attraction is a company presentation by Palace Capital (LON:PCA) . Also, I'll be giving a presentation on small caps - basically a…

Unlock the rest of this Article in 15 seconds
Already have an account?
Login here