Small Cap Value Report (1 Sep) - RFX, AVG, EMAN, VTU, SAT
Good morning folks,
A couple of updates today and possibly I will return to something we missed from yesterday.
Thanks,
Graham

---
Share price: 163p (+14%)
No. of shares: 30.8 million
Market cap: £50 million
This pawnbroking/financial services chain is guiding for results significantly ahead of market expectations.
Ramsdens Holdings PLC, the diversified financial services provider and retailer, is pleased to announce that the strong foreign exchange results in the early summer months gained additional momentum through the traditional peak period of July and August.  In addition, the Group is benefiting from its jewellery retail initiatives and these, along with the continued strong gold price, has helped the precious metals buying and pawnbroking segments.
I've suspected for a while that the foreign exchange market is rather uncompetitive (possibly due to customers not being interested enough to try to get the best rates). Well done to Ramsdens for making headway in this segment.
The other factors cited, jewellery retail and the price of gold, are also very relevant for H & T (LON:HAT) (in which I continue to hold a long position).

I think the sector as a whole is primed to do very well. Their jewellery retailing activities offer people bargains on high-end items, and so should be robust regardless of overall consumer sentiment. But the financial services side, especially pawnbroking and personal loans, is counter-cyclical versus the rest of the high street.

Ramsdens shares aren't the apparent bargain they were at IPO any more, and my instinctive scepticism toward new issues has cost me a bit here in terms of missing out on the opportunity!

Since forecasts will need to be updated for today's guidance, the shares aren't particularly expensive now either: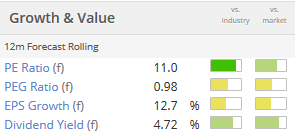 ---
Share price: 256p (unch.)
No. of shares: 30.7 million
Market cap: £79 million
It's easy to make a mistake calculating the market cap here, as the number of shares outstanding has increased by 11.5 million, and these have only been admitted to trading today.

This was a reverse takeover such that shareholders in the target (£HAYT) now own nearly 38% of the combined…

Finish reading with a 14 day trial
Already have an account?
Login here