Small Cap Value Report (10 Apr 2015) - BLUR, BON, ALY, OMG
Good morning! I'm in London for the next few days, so am "enjoying" the constant noise from scaffolders, emergency services sirens, the appalling noise from binmen crashing around with wheelie bins & emptying recycling bins full of bottles, and fat women with pushchairs who decide to stop right outside my window and have a chat, which basically involves them bellowing at each other at the tops of their voices. Joy. So what with all that, and a bit of a red wine hangover, I'm not in the best of moods today. Still, at least I have the delight of a Chilango burrito to look forward to for lunch!
Blur (LON:BLUR)
Share price: 54.5p (down 33% today)
No. shares:  47.1m
Market Cap: £25.7m
Profit warning - it's becoming increasingly clear that this company's name is also an apt description of their approach to accounting. They have run into revenue recognition problems several times before, and it's happened AGAIN today. Today's announcement has left me speechless;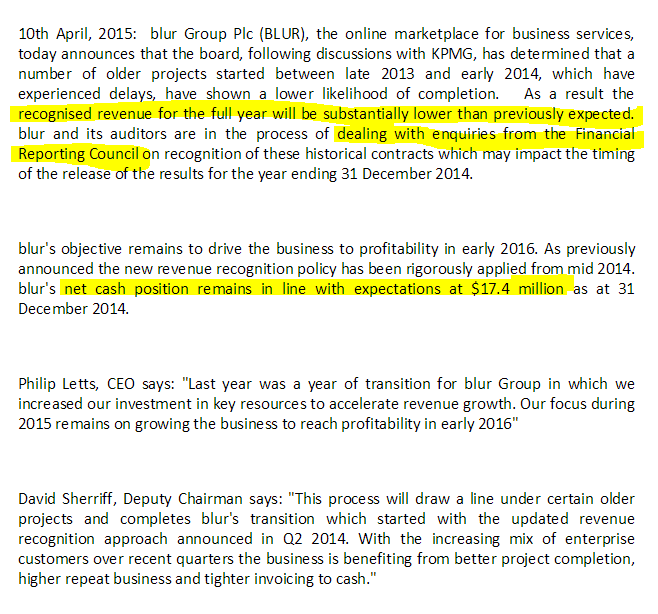 My opinion - this company has absolutely zero credibility now. I've always been highly critical of it, as the figures to date have been so bad, but I went slightly wobbly on it (i.e. toying with the idea that they might have something worthwhile?) after listening to an upbeat presentation from the new FD at an investor show in Feb 2015. It now seems that my notes from that presentation can safely be filed in the tray marked (polite version) "nonsense".
The company last reported net cash of $24.4m at 30 Jun 2014, and today says it was down to $17.4m just six months later, so that's cash burn of $7.0m in six months, and implies there is enough cash to last until about Mar 2016. So the begging bowl is likely to come out, yet again, in late 2015. I'll be amazed if anyone is prepared to refinance this company again. So it stays on my bargepole list, with the most likely outcome being insolvency in 2016, in my opinion.
Yet another jam tomorrow story stock that is dismally  failing to deliver on the hype. AIM is becoming (or has become?) a complete joke, with practically all of its jam tomorrow stocks doing disastrously badly.
If I held shares in this crock, I'd take off the rose-tinted glasses, and ditch them without hesitation after today's announcement. With a Stockopedia…

Unlock the rest of this Article in 15 seconds
Already have an account?
Login here