Small Cap Value Report (10 Feb 2017) - ECM, GNK, JE., RB
Good morning,
It looks like a  quiet news day in terms of the universe of stocks we usually cover here. I'll see what I can come up with - or let me know if you have any suggestions.

Cheers,
Graham
---
Electrocomponents (LON:ECM)

Share price: 499p (-1%)
No. shares: 441m
Market cap: £2,200m
Trading Update (for the four month period ending to 31 January 2017)

Revenue growth looks like this: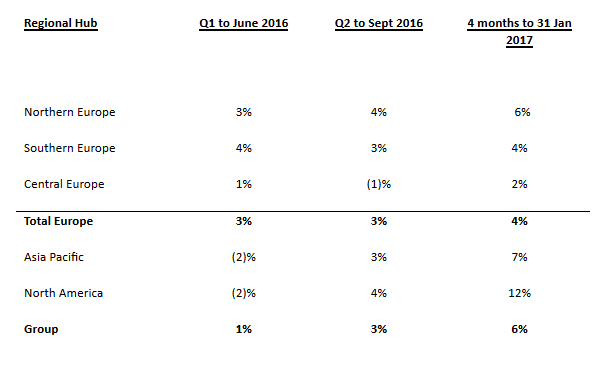 This company has always seemed to have a bit of a low profile among investors, but it's a really good distributor - "the world's leading high-service distributor for engineers", dealing in over half a million products.
The shares have gone on a tear higher this year (they started January around 220p) so it's not in the bargain bucket by any means, but it claims to be the leading distributor in the UK, Europe and Asia-Pac. That's a position which is worth a premium rating, in my book.
Non-GBP income means that this is one of the stocks which has provided fantastic GBP devaluation protection for investors:
We continue to expect FY 2017 revenue and profits to see a significant benefit from foreign exchange(2) and additional trading days(3).
Checking the footnotes in today's statement:
Our profits remain sensitive to movements in exchange rates on translation of overseas profits. Positive currency movements increased H1 profit before tax by around £7 million. Assuming current (31st January) rates persist for the rest of the year, the full year currency benefit will be around £18 million. Every 1 cent movement in the Euro will have a circa £0.9 million impact on profits. Every 1 cent movement in US $ will have a circa £0.3 million impact on profits

So that's a huge FX benefit, and the final footnote tells us that there will be a £10 million benefit to revenues from additional trading days in this financial year.
So the results are a bit messy but ECM has "typically" earned at least £60 million per year in net income, and Stocko suggests that the forecast for 2017 is £82 million.
No matter which way you look at it, it's on an above-average PE rating, but it's a very solid business which should hopefully continue to trade well for many years to come.

---

Unlock the rest of this Article in 15 seconds
Already have an account?
Login here